BUY STUFF AND SUPPORT AMP!
A percentage of every Amazon purchase made after clicking on this link is donated to AMP. An easy and fun way to show support. Happy shopping! Or click here to make a tax deductible donation to AMP.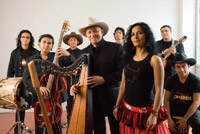 AMP Concerts & the NHCC present
Cimarrón
Time: 7:30pm Day: Thursday Doors: 7:00pm Ages: All Ages
This Event Has Ended
Tickets cost $15, $20 and $25 (plus applicable service charges).  Tickets are available fromthe NHCC Box Office (in person and by phone -  (505) 724-4771).
Los Llanos Orientales are vast plains that stretch from Colombia into Venezuela. The mestizo people that inhabit these savannahs on the great Orinoco river are descendents of Spanish settlers, African slaves and Indigenous Indians. This is cattle rearing country, where music accompanies the daily working tasks such as milking and cattle drives. Most striking is the festive dance music called joropo, a fiercely virtuoso display of rippling melodies. The joropo's syncopated drive and top-of-the-lungs singing proclaim a cattle-herding mestizo people proud of their homeland. Percussive harp techniques and fast-picking bandola guitar rise upon a bedrock rhythm of cuatro guitar, bass, and maracas to produce the signature plains sound.
Cimarrón is the most accomplished llanera group in Colombia. A seven piece led by harpist and composer Carlos Rojas, they have been working for over twenty years and have performed the world over. These musicians are immersed in the sounds of "los llanos"; they seek to explore and experiment with their rich heritage while retaining the essence of the tradition.
"Incredible virtuosity on their harp, bandolas, and percussion backed heart-felt singing evoking the cattle ranches and vast landscapes of their homeland, and a memorable showcase that deservedly finished with a standing ovation, ended with an energetic display of traditional dancing." -Mondomix
---

loading tweets
Coming Up