BUY STUFF AND SUPPORT AMP!
A percentage of every Amazon purchase made after clicking on this link is donated to AMP. An easy and fun way to show support. Happy shopping! Or click here to make a tax deductible donation to AMP.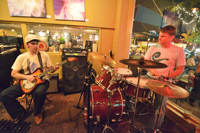 Todd & The Fox
Time: 4:00pm Day: Saturday Doors: 3:30pm Ages: All Ages Price: FREE
This Event Has Ended
Todd & the Fox creates banjo-driven, award-winning, venue-shaking, roots-rock and electronic music.
Emerging from the art-steeped, high desert crossroads of northern New Mexico, Todd & the Fox began as a side project for band members Todd Eric Lovato and Erik Sawyer in early 2011. The duo quickly found itself center stage and propelled to the forefront of the region's music scene, as audiences and music critics alike responded gleefully to the band's minimalist hybrid of dance-oriented roots, country, folk and electronic music.
"Todd & the Fox has an unforgettably awesome sound right out of the gate. Given the international hysteria surrounding indie duos (not to mention anything with an even slightly country/folk sound), it has a decent head start on the road to super-stardom," wrote the Santa Fe Reporter's Alex De Vore.
In the tradition of rustic and reckless American folk and blues, T&tF takes a fresh approach to its electro-country-roots sound, described by many fans as a hybrid between modern acts like The Black Keys and The White Stripes and the enigmatic backwoods sounds of The Carter Family and Robert Johnson.
"Todd & the Fox gets it right and seamlessly blends elements of roots music and elements of electro without sounding derivative," Pasatiempo magazine's Rob DeWalt wrote.
More critical praise rolled in, as did the number of loyal audience members at T&tF shows, followed by performances in many of the area's top music venues and local festivals.
Keep in mind, all of this fanfare has arisen prior to the release of T&tF's full-length debut album. Like T&tF's live performance, the album is an exploration of dusty, dance-oriented songs written exclusively on a five-piece drum kit (Sawyer), five-string banjo, electronic music software Ableton Live and electronic bass pedals (Lovato). The album, scheduled for February, 2012, employs the studio mastery of both musician/producer Jono Manson (Blues Traveler, Bo Diddley, Taj Mahal, Bruce Springsteen) and engineer/producer Andrew Click (Roseann Cash, Bela Fleck, Ralph Stanley, T Bone Burnett).
Equal parts singer/songwriter, showman and music producer, Todd Eric Lovato has garnered a loyal musical following and critic accolades for his music production, as evidenced by five New Mexico Music Awards for songs ranging in style from Americana to hip-hop. A New England transplant, Erik Sawyer has established himself as a dynamic percussionist and lightning-fast bluegrass, folk and country guitar picker as part of Madrid, NM's Family Coal. Fresh off a win at the New Mexico Music Awards for the song "Blessed Christine" (Best Production in Americana, 2010), T&tF's unique blend of dust and neon is poised to make a lasting impression on U.S. and international audiences.
This is the latest in a monthly series of free events in collaboration with the Friends for the Public Library.
Thanks to Bernalillo County for helping to fund AMP's free community concerts.

---

loading tweets
Coming Up