BUY STUFF AND SUPPORT AMP!
A percentage of every Amazon purchase made after clicking on this link is donated to AMP. An easy and fun way to show support. Happy shopping! Or click here to make a tax deductible donation to AMP.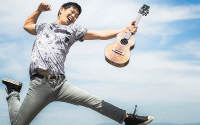 Jake Shimabukuro
Time: 7:30pm Day: Saturday Doors: 6:30pm Ages: All Ages
This Event Has Ended
Tickets are $27, $33 and $38 (including all service charges). They are also available through Hold My Ticket (112 2nd St SW), 505-886-1251, Monday to Friday 9 AM - 6 PM, Sat & Sun 11 AM - 6 PM.
Come early for a Ukulele Open Mic in the lobby before the show!  
We know many of you are ukulele players.  We thought this would be a really fun way to get the evening rolling.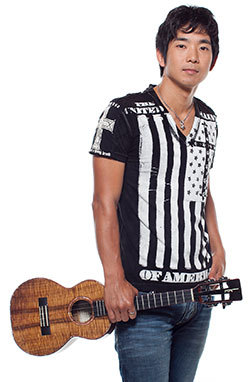 Consider the humble ukulele. It's an adaptation of a stringed instrument that traveled with Portuguese immigrants who came to work in the sugar cane fields of Hawaii. Islanders made the "machete" their own, mixing external influences of classical European music and Spanish guitar with Hawaiian songs. Native Hawaiians renamed the little machete the ukulele and it's become synonymous with Hawaiian music and Hawaiian culture.
Jake Shimabukuro [web site | Amazon.com] comes from that same process of mixing both island and outside influences, both modern and historical. He's combined the qualities of a long line of virtuoso ukulele players with modern rock musicians to create a sound that's uniquely his own but still firmly grounded in Hawaiian tradition.
Growing up in Hawaii, Jake's influences include legendary ukulele players like Eddie Kamae, Ohta-San and Peter Moon. Jake also credits icons like Bruce Lee and Michael Jordan as a source of inspiration.
Known for his energetic strumming on the ukulele, Jake's performance incorporates elements of thoughtful, sophisticated arrangements to spontaneous, improvised passages. In addition to his original compositions, his repertoire includes Queen's "Bohemian Rhapsody," Schubert's "Ave Maria" and Leonard Cohen's "Hallelujah."
Born and raised in Honolulu, Hawaii, Jake's life has always centered on the ukulele. He started playing at the age of four, urged on by his mother, who also played.
Jake began his music career in the mid-90's, performing at local coffee shops as a sideman with his first band, Pure Heart. But Jake's solo career began in 2002 when he signed with Epic Records, becoming the first ukulele player to sign with Sony Music. While his well-received solo releases positioned Jake as an established musician in Hawaii and Japan, his career skyrocketed when a cover of "While My Guitar Gently Weeps" went viral on YouTube with more than 13 million views, opening the rest of the world's eyes to Jake and his unique playing style.
In the years since the YouTube clip aired, Jake has collaborated with an array of artists that include Yo-Yo Ma, Jimmy Buffett, Bette Midler, Cyndi Lauper, Jack Johnson, Ziggy Marley, Dave Koz, Michael McDonald, Bela Fleck and The Flecktones, Tommy Emmanuel, and Lyle Lovett—as well as orchestras around the world. He's sold out world-class venues, played at Bonnaroo, SXSW, the Playboy Jazz Festival, Fuji Rock Festival, the influential TED conference, and even performed for Queen Elizabeth II at the Royal Variety Performance in Blackpool, England.
He has topped Billboard's World Music Chart numerous times, been declared a musical "hero" by Rolling Stone magazine, which also stated: "one of the hottest axemen of the past few years doesn't actually play guitar." He has also won accolades from the disparate likes of Eddie Vedder who states: "Jake is taking the instrument to a place that I can't see anybody else catching up with"; been talked about by Perez Hilton and Dr. Sanjay Gupta; wowed audiences on national TV with appearances on "Jimmy Kimmel Live," "Late Night with Conan O'Brien," "Good Morning America," and "The Today Show"; and along the way has earned comparisons to musical innovators such as Jimi Hendrix and Miles Davis. Jake has been the subject of an award winning documentary "Jake Shimabukuro: Life On Four Strings," currently on Netflix.
Although he is constantly touring, playing 140 shows a year, Jake and his family continue to make Hawaii their home.
---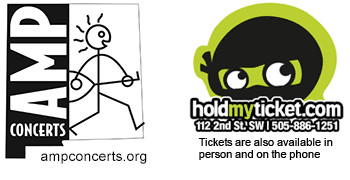 loading tweets
Coming Up