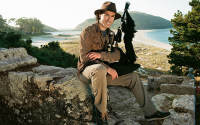 Carlos Núñez
Time: 7:30pm Day: Wednesday Doors: 6:30pm Ages: All Ages
This Event Has Ended
Tickets cost $20, $25, $30 (plus applicable service charges). Kids 12 and under only $7!
Tickets are available through the KiMo Box Office and Hold My Ticket (112 2nd St SW), 505-886-1251, Monday to Friday 9 AM - 6 PM, Sat & Sun 11 AM - 6 PM.
Carlos Núñez [web site | Amazon.com] is one of Galicia's most revered artists, undisputed as the tradition's greatest piper. He is also enormously popular across the rest of Spain and throughout Europe and Latin America. He is already known in Irish music thanks to his early "adoption" by The Chieftains (so close was his musical and personal connection he was dubbed "The Seventh Chieftain"). He played on many of the acclaimed Irish group's CDs including Treasure Island, The Long Black Veil, the Grammy-winning Santiago (inspired by Galician music), and Voice of Ages.
Núñez then launched his own solo career, starting with his 1996 debut, Brotherhood of Stars. With platinum sales in Spain, Brotherhood was a remarkable breakthrough for both Núñez and Galician music. His newest album, Discover, showcases the range and depth of this groundbreaking instrumentalist, who has taken Galician music to all corners of the world. Proof is in the stunning list of guests that appear on Discover, including the Chieftains, Jackson Browne, Ry Cooder, Linda Ronstadt, Los Lobos, Sinéad O'Connor, Waterboys frontman Mike Scott, Laurie Anderson, Hector Zazou, and many others.
"Galicia," Nuñez explains, "is the magical part of Spain." A region both beautiful and mystical, it has a culture and music all its own. Galicia was shaped by an ancient history (tied to the Celts who inhabited that corner of the country over 2500 years ago). At the western-most part of Spain, perched on the Atlantic coast, Galicia is a land connected to cultures from across the globe, not only from their own seafaring history but from a constant influx of Christian pilgrims to Santiago de Campostela. Then, during the dictatorial Franco regime, flamenco was promoted as the "national music," while other regional arts, languages and cultures faced severe repression. Now, Galicia is undergoing a modern day renaissance.
Carlos Núñez was born in 1971 in Vigo, the port that connects Galicia to the world—Vigo is where Hemingway first set foot in Spain; it remains today much as found it. Núñez started playing the gaita at the age of eight. He studied recorder and Baroque music at Madrid's Royal Conservatory. At the age of 12, he performed at Brittany's Festival InterCeltique (it was there he first heard The Chieftains).
Núñez's music draws on influences that range from ancient and contemporary Celtic (with a unique Spanish swing) to Medieval and Baroque, and also borrows from the sounds and styles of the places where Galicians have settled, including Cuba, Brazil, Argentina, even the United States.
He's the undisputed master of Galicia's signature musical instrument, the gaita, or Galician bagpipes. "What the flamenco guitar is to the south, the gaita is to the north," he explains. "The pipes have been here for over a thousand years. Everyone knows Scottish bagpipes and Irish uillean pipes, but now they are supposed to be the descendants of the Galician pipes." The gaita is musically more flexible than its Irish and Scottish relations, and in the hands of Núñez—who also plays pennywhistle, ocarina, Jew's harp, tin whistle and flute—an exciting and funky 21st century instrument. "People say I play the pipes like the electric guitar!" he says.
Another Núñez trademark is his unique ability to work so effortlessly with so many different artists and traditions, something he also attributes to Galician culture. "We are like chameleons. We always mix with the cultures of the places where we go and then we make a new melting pot, a new mix."
Núñez will be accompanied by his brother Xurxo Núñez on percussion and regular collaborator Pancho Álvarez on guitar. In addition, he will be joined onstage by three special guests:
Basque star singer of Galician descent María Berasarte has collaborated with Carlos Nunez on several concerts in Spain. This will be her first tour abroad as guest vocalist with Carlos's band. Her passion for fado brought her to devote her first album for Universal Music, Todos las horas son viejas, to it. Portuguese critics called it the best fado album ever recorded by a foreign voice.
Itsaso Elizagoien, a 21-year-old accordion player from the Basque Pyrenees, has been touring with Carlos in Europe and will also be joining him for the U.S. tour, along with young folk musician Carmen Gallego, who left the experts agape with her performance on the Medieval fiddle at the Santiago Cathedral 50th anniversary show led by Carlos.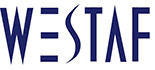 Carlos Núñez's visit is sponsored in part by a grant from WESTAF—the Western Arts Federation—and the National Endowment for the Arts.
---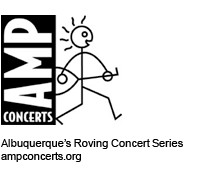 loading tweets
Coming Up