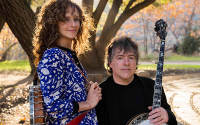 Béla Fleck & Abigail Washburn
Time: 7:30pm Day: Monday Doors: 6:30pm Ages: All Ages
This Event Has Ended
Tickets are $35-$49 (plus applicable service charges). They are also available from the Lensic Box Office (505-988-1234).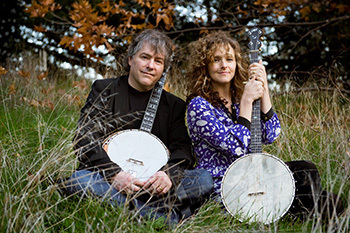 Banjoists Béla Fleck and Abigail Washburn have mastered the deceptively intricate art of the duet. Their performances embrace a diversity almost unthinkable—coming from just two banjos and one voice. Washburn's beguiling composing, playing and singing blend with Fleck's riveting and virtuosic musicianship to create music both unique yet familiar in texture.
Fleck, a 15-time Grammy winner, has virtually reinvented the image and the sound of the banjo through a remarkable performing and recording career that has taken him all over the musical map and on a range of solo projects and collaborations. If you are familiar with Béla, you know that he just loves to play the banjo, and put it into unique settings.
Washburn's banjo has taken her far beyond the usual old-timey comfort zone, musically and geographically. An alumnus of Uncle Earl, the powerhouse all-female string band, Abby's adopted second homeland is China, and her music resounds with echoes of Appalachia and the tidal wave of emerging Chinese cultural influence. Her efforts to share U.S. music in China and Chinese music in the U.S. exist within a hope that cultural understanding and the communal experience of beauty and sound rooted in tradition will lead the way to a richer existence.
Together, Fleck and Washburn employ the relatively rare 3-finger and clawhammer banjo duet to create an explosion of musical white heat. Their eponymous debut album as a duo, Béla Fleck and Abigail Washburn, is a front porch banjo and vocal album of new music, Appalachian murder ballads, gospel, chamber and blues. The record reveals their astounding chemistry as collaborators, as the two seamlessly stitch together singular banjo sounds (through an assortment of seven banjos spanning the recording) in service to the stories that their songs tell, with no studio gimmickry needed. According to Béla, "finding a way to make every song have its own unique stamp, yet the whole project having a big cohesive sound—with only two people," was at the core of their joint vision. Demonstrating seemingly unlimited rhythmic, tonal and melodic capabilities, Fleck and Washburn confirm the banjo's versatility as the perfect backdrop to the rich lyrical component that Fleck and Washburn offer.
"What can I say about my wife Abby, except that the first time I listened to a CD of her music, I started driving so fast that I got pulled over for speeding and was made to walk the line by the men in blue! She's a beautiful singer/songwriter who builds her material around her distinctive claw-hammer banjo style. This results in very rooted and soulful, yet original music of the first order... Abby and I have played as a duo since we first met, trying impromptu duets at picking parties, doing a few tunes at benefits, and occasional radio shows together, but we never took our act on the road—til now. With the birth of our little boy Juno, we decided that the best way to stay together more would be to play together more. So far Juno plans to stay backstage!"
—Béla Fleck
---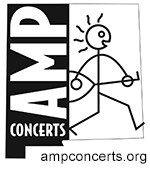 loading tweets
Coming Up