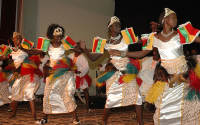 Ndere Troupe
Time: 12:30pm Day: Tuesday Doors: 11:30am Ages: All Ages Price: FREE
This Event Has Ended
This event is part of the 2017 Revolutions International Theatre Festival, put on by our friends at Tricklock Company.  The group will also present fully staged evening performances as part of Revolutions.
This show is now full!  New reservations will go on the waiting list.  There is a good chance you will be able to get in if you are on the waiting list, but we can't guarantee it.  
We are pleased to host Ndere Troupe as part of our integrated series at N4th Theatre, where we bring musicians to perform for the artists with developmental disabilities at N4th and invite the community to come join the fun and see the great work they do there. Community spots are limited to 60 people and reservations are required.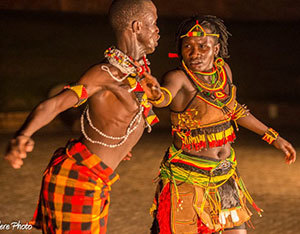 The word ENDERE means FLUTE. NDERE TROUPE, therefore means "Flute Troupe."
The flute was chosen as a symbol of:
Beauty:
Because it produces such beautiful and irresistible music which can be manipulated to express different moods, such as love, thoughtfulness, loneliness, sorrow, romance, happiness etc.
Universal Unity: 
All peoples of the world have a flute in their cultures. The flute is like the red blood that flows in our bodies no matter our external differences. Ndere Troupe prides in emphasizing commonalties and enjoying the rich differences.
Ndere Troupe is a cultural development organization that was founded in 1986 by Rwangyezi Stephen with the above objectives.
Ndere Troupe is Africa's dancing encyclopedia. In Africa, written words did not exist; thus, Africa's cultural history, literature, knowledge and wisdom were recorded and passed on to succeeding generations through the medium of performing arts, music, dance, storytelling and poetry.
Pride in Education:
In an effort to salvage and conserve African heritage, Ndere Troupe performs a repertoire of more than 40 authentic Ugandan dances and songs accompanied by various indigenous percussive, stringed and wind instruments. The Troupe engages in various projects aimed keeping African generations educated about traditional entertainment and also uses traditional entertainment to spread knowledge about such current issues as modern farming techniques and HIV/AIDS.
Uganda's Cultural Ambassadors:
The multi-award winning Ndere Troupe has been gracing stages for almost 25 years with high quality performances that have resulted in worldwide appreciation and fame.  Ndere Troupe has also made memorable experiences for countless people and organizations by performing at the different milestones in their lives.
With over 60 artistes, Ndere Troupe is poised to continue shaping Ugandan culture and performance and take it to the next level.
---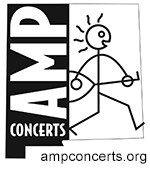 loading tweets
Coming Up