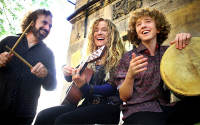 Epiphany 3
Time: 6:00pm Day: Monday Doors: 5:00pm Ages: All Ages Price: FREE
This Event Has Ended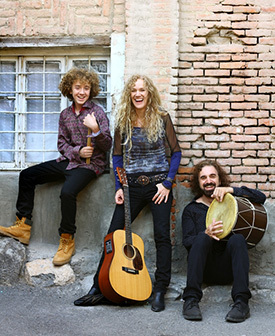 Epiphany 3 is a trio with its roots in folk, world, indie rock, and improvisation playing music from all Epiphany Records' ensembles.
"Bet Williams sings, breathes, shouts, whispers and cries with her 4 octave-range voice. John Hodian plays the grand piano with a haunting and a deeply soulful style, and their son, Jack, a young man of only 13 years old, possesses a keen sense of rhythm unparalleled by most adult drummers."
—Hamburg Abendblatt
From ancient monasteries in Armenia to music festivals in France, Germany & Switzerland, Bet Williams and John Hodian have been creating and performing music together for over 20 years. With the globe-trotting world music ensemble Epiphany Project, the alt-rock-pop-blues based Bet Williams Band and the Armenian-oriented Naghash Ensemble, the music these two artists create is a vast quilt of influences and inspirations. As Epiphany 3, John and Bet perform with their 13-year-old son, Jack, an exceptional drummer and percussionist.
"Playing music with my family is my favorite way to perform," says Williams about the project. "When we're on the road traveling from town to town, meeting people and making music wherever we land, it's a great adventure."
Williams' astonishing 4-octave range voice and Hodian's impassioned piano improvisations are uniquely combined in this trio.
With influences ranging from Qawwali devotional songs to Appalachian Folk, acoustic blues and Tuvan throat singing, singer/songwriter Bet Williams uses her voice in an endless number of ways. John Hodian's piano playing features haunting melodies and intricate rhythms that reflect his Armenian roots, his formal composition training and a love of improvisation. Together their music is a blend of ancient and modern cultures and musical styles, but the earthy, sometimes trance-like rhythms and chant melodies make it seem strangely familiar. 
"A unique hybrid of world music, art song, Americana and avant-garde folk; utterly uncategorizable but always transcendently beautiful."
—Washington Post
This is the latest in a monthly series of free events in collaboration with the Friends for the Public Library.


---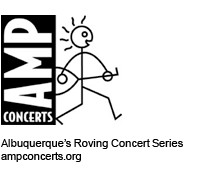 loading tweets
Coming Up