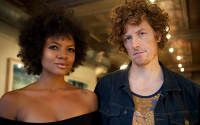 Birds of Chicago
Taarka
Time: 7:30pm Day: Sunday Doors: 6:30pm Ages: 21+ Ages
This Event Has Ended
Tickets are $17 in advance, $22 day of show (including all service charges). They are also available through Hold My Ticket (112 2nd St SW), 505-886-1251, Monday to Friday 9 AM - 6 PM, Sat & Sun 11 AM - 6 PM. 21 and over unless accompanied by parent or legal guardian.
This concert is sponsored by Rick & Gail Thaler and OGB Architectural Millwork.  Thanks as always for the ongoing support!
Kimo's Hawaiian BBQ will be on hand serving authentic Hawaiian grinds and 'ono food.
The Dirty Bourbon is rigidly 21 and over. They will not let you in without an ID. There is limited seating and a great dance floor.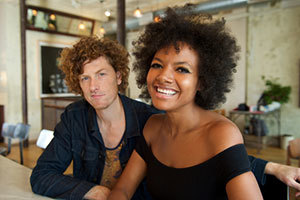 Birds of Chicago, the collective centered around Allison Russell and JT Nero, reassert the simple notion that beautiful words and music can still tap deep veins of emotion. Stark, elemental imagery that feels like scripture, or a lost folk song recovered; the Birds draw heavily on the gospel tradition and the music feels like a new, secular gospel of sorts. For Birds of Chicago, every word counts. Every note counts. No gold-dusting, no filler.
Birds of Chicago was born in 2012 when Nero began writing for his vocal star-muse, Russell. Both were accomplished singer/songwriters with projects of their own, Nero with JT and the Clouds and Russell with the acclaimed Canadian roots outfit Po'Girl, but together there was an unmistakable chemistry. Nero had found the perfect voice for his rock and roll psalms. Russell moved from being a primary songwriter to an interpreter, and her simmering restraint is deeply refreshing to a landscape scorched by post "The Voice"/"American Idol" vocal gymnastics and over-emoting.
On their latest album, Real Midnight, Birds of Chicago alternate moody rock swagger with the ghostliest of soundscapes. Produced by Joe Henry, a man who's expert blending of light and shadow is well known, the album is a melancholy—but never shoe-gazing—suite, full of wayward, joyful, lonesome voices raised up against the night.
Music this raw and soul-rich demands to be experienced live, and Birds of Chicago have developed a fervent following, touring 200 nights a year since their formation. For these Birds, singing for a room full of new people, hearts wide open, keeps off the cold and chases off the shadows.
The Birds' next album, Love in Wartime, will be released later in 2017.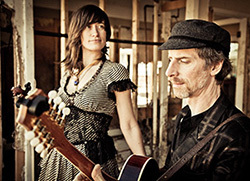 Taarka will open the show. Described by SF Weekly as "a collision of Django Reinhardt and David Grisman," Taarka presents masterfully deep Americana and Gypsy jazz string band music. Led by the husband-and-wife team of David Pelta-Tiller (mandolin, tenor guitar, vocals) and Enion Pelta-Tiller (five-string violin, vocals), Taarka's live shows strike a balance between well-crafted songs and spirited instrumentals, expanding on its beginnings as a purely instrumental string band putting a modern spin on Gypsy and Eastern European folk music. Taarka has drawn from wide-ranging influences over the past 10 years. Sophisticated listeners will be able to distill flavors of Western and Eastern folk traditions, jazz, rock, bluegrass, old-time, gypsy, Indian, and Celtic music all in a string band setting.
---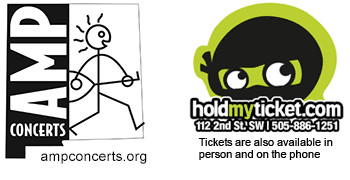 loading tweets
Coming Up