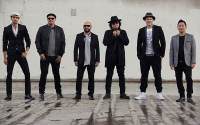 The Town of Taos Presents:
FREE Fourth of July Celebration with Ozomatli
Nosotros, Mariachi Teotihuacán and more!
Time: 4:30pm Day: Tuesday Doors: 4:00pm Ages: All Ages
This Event Has Ended
The Town of Taos Facilities and Events Department, Taos Volunteer Fire Department and AMP Concerts presents OZOMATLI and Fireworks at Kit Carson Park.
Bring a lawn chair, a blanket, a picnic basket, your family and friends.  
Gates open at 4:00 PM, music starts at 4:30 PM with Mariachi Teotihuacan, followed by Nosotros at 5:50 PM, National Anthem by AnaKaela Trujillo at 7:15 PM, leading up to OZOMATLI Latin rock sensation from 7:30 PM – 9:00 PM.  
Wisefools and Taos Aerial Gym will provide: Aerialists/Stilters/Hoop Dancers.  The Carson National Forest booth will provide giveaways. 
There will also be various food and drink options available for purchase: pulled pork sandwich, potato salad and bottled water provided by Whole Hog Café; Italian ice cream provided by Blue Mountain Café; fresh juice, smoothies, lemonade, watermelon and ice tea provided by Freshies Juices; sodas, bottled water, candy bars and chips provided by Hogs and Heifers; cotton candy, popcorn, candy, pickles, bottled water and sodas provided by Town of Taos Concession; lemonade and snow cones provided by Taos Youth Travel Club; hot dogs, chips and drinks provided by The Hot Dog Lady. 
A beer and wine garden will be sponsored by Taos Mesa Brewing. 
A spectacular fireworks display hosted by the Taos Volunteer Fire Department will cap off the evening.  This celebration will offer locals and visitors a safe, patriotic fun-filled experience.  The BEST viewing of the fireworks show will be from Kit Carson Park.    
Remember that pets are sensitive to fireworks and large crowds.  We recommend that you keep your pets indoors after dusk. 
The Town of Taos, Taos Volunteer Fire Department and AMP Concerts wishes everyone a safe and happy 4th of July.
Lawn / Camp Chairs Welcome.
In-and-out access is allowed for this show.
SCHEDULE:
4:30 - 5:30 Mariachi Teotihuacán
5:50 - 7:00 Nosotros
7:15   The National Anthem performed by AnaKaela Trujillo
7:30 - 9:00 Ozomatli
9:00 Fireworks!
Register for the event and we'll also send you updates if there are any schedule changes as well as info on future programs and events around Taos, Santa Fe and Albuquerque.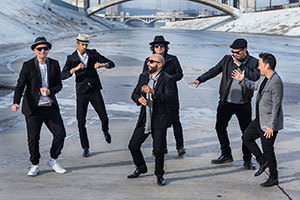 Since its inception in 1995, innovation and creativity have defined Ozomatli [website | Amazon.com]. Hailing from Los Angeles, the group found a way to represent the city's eclectic culture through music that appeals to the local community and the world beyond. Ozomatli's success is exemplified in an impressive variety of genres from classic to modern Latino, urban, hip-hop and other world styles. The "Dioses del Baile," or "Gods of Dance," have created one of the most exciting, captivating and flat-out fun live shows touring today. They continue to harness their musical instincts by conceiving new concepts and forging new sounds that keep fans on their toes and the world dancing.
Ozomatli catapulted to the top of the live music scene with its first eponymously titled album. The impact of the album was felt throughout the music world, and earned them the opportunity to open for Carlos Santana on his Supernatural tour. Following the success of its first album and touring with Santana and Mana, Ozomatli released its sophomore album, Embrace the Chaos, which garnered a Grammy award for Best Latin Rock/Alternative Album. The follow up album, Street Signs, won both the same award and the Latin Grammy Award for Best Alternative Music Album in 2005.
On its latest album, Nonstop Mexico to Jamaica, Ozomatli gives classic and iconic Latin songs a reggae twist. "Anyone who is 8 or 80 will recognize 'Sabor a mi' or 'Bésame mucho,' and with these new renditions, these classics become reborn, allowing a whole new generation to sing, dance and keep the legends alive," Ozomatli's percussionist and MC Justin "El Niño" Porée says.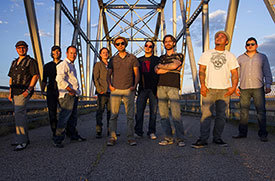 Nosotros seamlessly combines Latin rhythms with elements of Rock, Salsa, Jazz and Cumbia, creating an original sound that is unmistakably Nosotros. But M.E. Schenck of Hyperactive Music Magazine may have interpreted their sound best by saying "Nosotros' music is not to be explained, it is to be felt in the pit of our souls."
The award-winning ensemble began as a guitar trio in 1994 and was based in the southern New Mexico town of Las Cruces. The band gained an almost immediate following, and by September 2001, it had grown into a 6-piece and relocated to the Albuquerque/Santa Fe area, firmly establishing themselves as one of the most popular bands in New Mexico. They have received numerous NM Music Awards, including the highly coveted Album of the Year and Producer of the Year awards, cementing the group's reputation as a Latin music powerhouse.
In 2014, Nosotros celebrated 20 years as a band. To mark the milestone, the band released an anthology CD simply titled XX. Over the years Nosotros has changed and taken on a life of its own, but through all that has changed one thing remains the same: Nosotros is and always will be felt in the pit of your soul.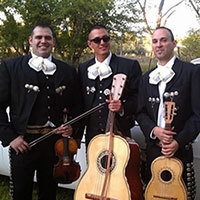 Mariachi Teotihuacán takes its name from the largest city of the pre-Columbian Americas. The ancient site is also known as "the city of pyramids" and "the city of fire." The choice seems fitting. Mariachi Teotihuacán is a striking group of musicians whose artistic merit and sincere presence makes a powerful impression. Listening to Stephen Montoya sing, one is struck by the power, agility and emotion displayed in his voice; he has said the feel of mariachi is something hard to describe. "It's even hard to teach. It's a certain rhythm of what you're playing. It's playing something on the offbeat when it doesn't really seem like it should be. But most of all it's the music that's coming from your heart. That's what it really is. It's 'de puro corazon.' Just straight from your heart." The group also features Daniel Martinez on Guitarron and Jamie Martinez on Vihuela.
---

loading tweets
Coming Up