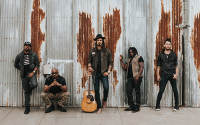 *** CANCELED ***
Michael Franti and Spearhead
The Wailers
Supaman
Time: 5:00pm Day: Saturday Doors: 4:00pm Ages: All Ages
This Event Has Ended
We are sorry to report that tonight's show with Michael Franti & Spearhead and The Wailers has been cancelled due to the unprecedented week of rain.  We've been at the park trying to soldier through, but it's a soggy, muddy mess and more rain is on the way.  Last night there were lightning strikes at the park, so we want to make sure that everyone is safe too.
We are sorry for any inconvenience.  We're already talking to Michael and the Wailers about returning next summer.
It's a hard decision for us to make and economically even harder, as cancelling a show costs a lot of money. We'll be refunding everyone's tickets next week.
Onward and upward - and we'll see you at some more DRY shows soon!
Tickets are $46 in advance, $50 day of show (including all service charges). Tickets for kids 12 and under are just $9 (including all service charges). Kids 2 and under are free.
Tickets also available through Hold My Ticket (112 2nd St SW), 505-886-1251, Monday to Friday 9 AM - 6 PM, Sat & Sun 11 AM - 6 PM.
LAWN AND CAMPING STYLE CHAIRS WELCOME • NO COOLERS • NO OUTSIDE FOOD OR DRINK • SEALED BOTTLES OF WATER OK • DRESS WARM AND BRING RAIN GEAR!
On Site Food and Beverages from:
Gourmet Pizza
J and J's Lunchbox
Freshie's Juice
Beer, Wine and Cider from Taos Mesa Brewing
Water will be available for purchase and there will be free water stations provided by Pristina Water.  It is ok to bring a sealed water bottle into the park, or an empty one that you can fill at the water stations.  Water refills are free, but donations are encouraged.  Pristina is helping us be more environmentally sound, but that comes at a cost.  We are eager to stop selling you wasteful plastic water bottles, but encourage donations to help us do that.


Performance Schedule:
5:00 Supaman
6:00 The Wailers
7:30  Michael Franti & Spearhead


Join Michael Franti and artist yogi Emily Branden at El Monte Sagrado for Yoga with Live Music at 3 PM! More information and tickets are available here.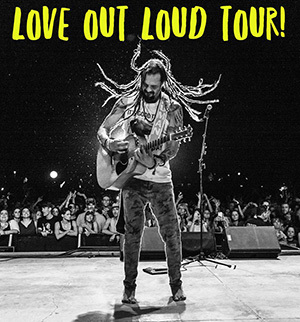 Michael Franti [web site | Amazon.com] is a musician, filmmaker, and humanitarian who is recognized as a pioneering force in the music industry. Long known for his globally-conscious lyrics, powerful performances, and dynamic live shows with his band, Spearhead, Franti has continually been at the forefront of lyrical activism, using his music as a positive force for change.
"I make music because I believe it can change people's lives and make a difference in the world," enthuses Franti. "Music gives us new energy and a stronger sense of purpose." Franti is known for his authentic, uplifting music and has found global success with multi-platinum songs like "Say Hey (I Love You)," the chart-breaking 2010 release from the album The Sound of Sunshine.
Michael Franti & Spearhead's new single from their ninth studio album Soulrocker, "Crazy For You," evokes the same feel-good, inspiring vibes. "'Crazy For You' is a song that calls out some of the crazy things that are happening in the world today and celebrates the people in your life that you can lean on, that keep the hope alive no matter what's happening around you. I wrote this song for my wife Sara, who is my rock and keeps me grounded no matter how crazy my life or the world gets."
In creating their debut album on Fantasy Records, Soulrocker, Michael Franti & Spearhead introduced a new sensibility to their potent hybrid of hip-hop, rock, folk, and reggae: a gracefully arranged take on electronic music that more than fulfills Franti's mission of making impassioned music you can dance to. Along with harnessing the Bay Area-based band's dynamic energy for a more powerful impact than ever before, Soulrocker again shows Franti's singular ability to channel frustration into music that's both thought-provoking and triumphantly hopeful.
"Right now is a very challenging time for people, for our nation and the planet," says Franti, a longtime activist and past recipient of Global Exchange's Domestic Human Rights Award. "But I really believe that music can help fight war and violence and hatred. The world needs that more than ever now, so my intention with this album was to make music that could bring people together."
Giving back has always been at the heart of Franti's mission; he has dedicated his life to spreading the joy of music and positivity to millions of people. Franti's humanitarian, social justice and peace efforts continue to inspire his music and are infused throughout Soulrocker.
Find out why Franti has been called "arguably God's greatest gift to the concert stage since Bruce Springsteen and U2... when Franti and his superb band, Spearhead, step foot on the stage, you will bear witness to one of the greatest musical miracles of your life... you will walk into the show a fan but leave feeling like Franti is a close friend." (antiMUSIC)
The legendary Wailers Band returns to bring its revolutionary sound to fans around the world. Steered by famed bassist and founder Aston "Familyman" Barrett, and joined in solidarity with original Wailers guitarists Junior Marvin and Donald Kinsey, The Wailers continue to make musical history.
From 1973 to 1980, Bob Marley & The Wailers recorded, toured, and performed before countless millions worldwide. Since 1981, Familyman and Junior have carried on the mission to "keep The Wailers together," just as Bob requested, affirming: "By doing that, you keep me alive through the music."
In tribute to the late co-founder and drummer Carlton "Carly" Barrett, The Wailers present Aston Barrett Jr. on drums. It's startling how the young powerhouse delivers with his uncle's inspiring landmark style. Lead singer Joshua David Barrett is a Rastaman by lifestyle and culture. Josh delivers Bob's powerful message of Jah love and unity through his performance and interaction with the audience.
Also on stage are singers Shema McGregor, daughter of I Three Judy Mowatt, and Hassanah, a multi-cultural powerhouse; veterans Owen "Dreadie" Reid on guitar/bass and Noel Davey on keyboards. The performance anchor is live engineer Dennis Thompson, the man responsible for The Wailers' sound in stadiums, clubs, and studios throughout the '70s.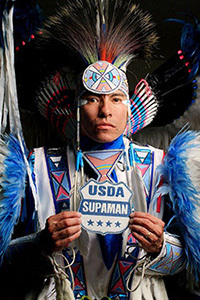 As a member of the Apsáalooke Nation, Supaman makes his home on the Crow reservation in Montana. The name "Supaman" hardly describes the person who is Christian Takes Gun Parrish, a humble Native American dancer and hip hop artist who has dedicated his life to empowering youth and educating listeners with a message of hope through culture and music. He is a young energetic entrepreneur with tremendous leadership abilities. His presentation style and delivery are nothing short of captivating. Known for his tremendously powerful inspirational lyrics, he is in demand nationally with the purpose of spreading a positive message throughout Indian country and abroad. In 2005 he won a Native American Music Award  (Nammy) for his group "Rezawrecktion" and has since released three self-produced projects which have all received national recognition and awards, including the 2011 North American Indigenous Image Award for outstanding hip hop album. 
Christian's presentation combines Native American culture, humor, and urban hip hop culture which dazzles audiences, captivates listeners and breaks down stereotypes. For this he has gained the respect of his culture and generation. He is a champion fancy dancer traveling extensively on the powwow circuit throughout the U.S and Canada and lives a drug and alcohol free life. He also is a champion clown dancer and a Native American Flute player which adds to his uniqueness as a role model, not to mention a loving husband and father of three. The communicative talent, along with the compassion that exudes from his life, allows him to connect with people from all walks of life. His uncanny ability to motivate, encourage, and inspire through dance, humor and music keeps him at the forefront among his contemporaries.
---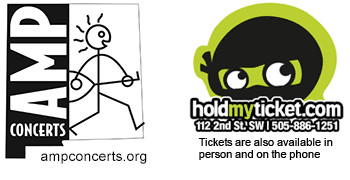 loading tweets
Coming Up