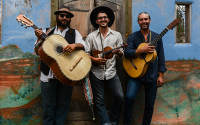 A New Mexico Culture Squared Event
Harvest Festival
featuring Lone Piñon
Time: 9:00am Day: Sunday Ages: All Ages
This Event Has Ended
The grounds will open at 9 AM and programs will wrap up by 3 PM.
The day's activities will include:
Farmer's Market 
Docent-led Tours of the Property including Casa Grande
Serenaded Orchard Tours
Food Vendors
Sheep Shearing Demonstration
Cider Making & Tasting
Harvest Blessing (1:15 PM)
Concert by Lone Piñon (1:30 PM)
Bring a bag to fill with locally grown apples (while supplies last - limit 1 bag per family please)
There is also river access, so feel free to bring a fishing pole (and license) and kick back by the river.
In addition to the activities on the schedule, we'd like to encourage people to bring musical instruments too.  It's a big property.  There are cool patios and orchards.  Lots of fun places to sit around and jam. Share the musical love!  And have some apples too.  The harvest is light this year, but there are still plenty to share.
Visitors are encouraged to bring folding chairs and come prepared for weather (sun or rain!).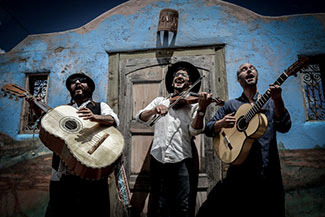 Lone Piñon is an acoustic trio from Santa Fe, New Mexico whose music celebrates their region's cultural roots.  Using violin, accordion, guitar, guitarrón, upright bass and harmony vocals in Spanish, English, and Nahuatl, the group has revived and updated the Chicano string band style that once flourished in New Mexico, bringing a devoted and explosive musicianship to Northern New Mexican polkas and chotes, virtuosic Mexican huapango and son calentano, and classic borderlands conjunto.
The musical landscape of New Mexico, like its culture, is beautiful and complex. Lone Piñon is the first of their generation of musicians to embrace the full scope of that complexity.  Onstage, they cluster around a single microphone and play with a fiery intensity, moving seamlessly through several dozens of the dance forms that resonate in their home state. The result is a new sound, rooted in respect for the past and undeniably alive.
The band features three musicians whose careers have woven through a wide spectrum of roots music before converging in 2012 in Northern New Mexican music.  
Jordan Wax (fiddle, accordion, vocals) grew up in Missouri and was traditionally trained by master Ozark fiddler Fred Stoneking and Central Missouri dance fiddler John White. He worked as bandleader and accordionist for a klezmer-punk brass band for years before his work with New Mexican fiddle styles inspired him to travel to Mexico for a 6-month immersion in Mexican huapango fiddling in the Huasteca region of San Luis Potosí. 
Greg Glassman (guitar, vocals ) first engaged his musical education as a clawhammer banjo player with the Gnawa musicians of Essouira, Morroco. Upon returning to North America, he began drumming for experimental jazz and Irish punk outfits, and performing rockabilly and gospel music before traveling to southern Veracruz, to study regional Mexican Son.
Noah Martinez (guitarrón, upright bass) grew up in Los Ranchos de Albuquerque immersed in the music of his community: Onda Chicana, New Mexican rancheras, punk rock, norteño, honky-tonk, Western swing, and the jaranero movement recently arrived from southern Veracruz. He is a descendant of several generations of activists who have worked to protect the agricultural and cultural traditions of Native New Mexicans and he raises sheep and goats on his family's land in the North Valley of Albuquerque.
About Los Luceros Historic Property: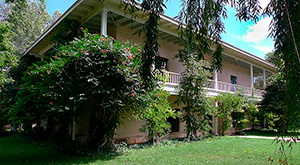 In a state blessed with numerous cultural gems, the 148-acre Los Luceros ranch located north of Española along the Rio Grande near the village of Alcalde is special.  The cultural site is surely one of New Mexico's most scenic and historically significant properties. 
The centerpiece of the historic Los Luceros ranch complex is a 5,700 square-foot, 18th century Territorial-style adobe home which was renovated by the Cabot Foundation in 2004 and is listed on the National Register of Historic Places.  The property also includes a visitors' center, director's residence and a small gallery. In addition to the hacienda and the visitors' center complex, the property contains three residences, an 18th century chapel, the original village jail, numerous farm buildings, apple orchards, irrigated pasture and bosque on the Rio Grande.
The New Mexico Department of Cultural Affairs, which purchased the Los Luceros property from the family of Frank and Ann Cabot in 2008, is the state's cultural steward and is working to ensure the site's preservation and integrity in perpetuity. The department's intent is to bring together historic preservation, filmmaking education and training, agricultural and environmental interests. Los Luceros is currently—and will continue to be—used as a cultural destination with interpretative exhibits and public access; as a retreat center for workshops and seminars related to New Mexico's film industry; and for crop-growing and environmental studies programs.
New Mexico Culture Squared (NMC2) is a NM Department of Cultural Affairs (DCA) project to build and manage partnerships between DCA institutions and cultural organizations that will enhance the impact, effectiveness, attendance, and visitor experience of exhibits and programs of DCA entities. Under the management of AMP Concerts, NMC2 will create programs in collaboration with State Historic Sites, DCA Museums and various cultural organizations with the goal of increasing public programs statewide and promoting New Mexico as a destination for arts and culture.


---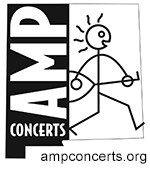 loading tweets
Coming Up