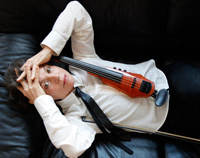 Laurie Anderson
DIRTDAY!
Time: 9:00pm Day: Sunday Doors: 8:00pm Ages: All Ages
This Event Has Ended
AMP is happy to be partnering with ISEA2012 to bring Laurie Anderson back to Albuquerque to perform her new piece and to be a keynote speaker at the International Symposium on Electronic Art to be held in Albuquerque from September 19 to 24. Come down early to enjoy the ISEA2012 Downtown Block Party on the conference sub-theme of Transportation: Dynamobilities. Enjoy art cars, bus-top fire dancing, a low rider symphony and plenty of cool and funky projects. It'll take place on Central between 4th and 6th street from 4 to 9 pm.
All tickets are $40 (plus a $2 service charge).
The legendary Laurie Anderson [web site | Amazon.com], icon of the electronic art and music world, will perform her brand new show as part of ISEA2012, looking at politics, theories of evolution, families, history and animals in a riotous and soulful collection of songs and stories. Set against a detailed and lush sonic landscape, the stories and music create a unique picture of a hallucinatory world made of dreams and reality. The third and last in her series of solo story works, which includes "Happiness" and "The End of the Moon," "DIRTDAY!" is the culmination of Anderson's ground breaking work in this genre.
Laurie Anderson is one of America's most renowned–and daring–creative pioneers. Known primarily for her multimedia presentations, she has cast herself in roles as varied as visual artist, composer, poet, photographer, filmmaker, electronics whiz, vocalist, and instrumentalist.
O Superman launched Anderson's recording career in 1980, rising to number two on the British pop charts and subsequently appearing on Big Science, the first of her seven albums on the Warner Brothers label.
Anderson has toured the United States and internationally numerous times with shows ranging from simple spoken word performances to elaborate multimedia events. Major works include United States I-V (1983), Empty Places (1990), The Nerve Bible (1995), and Songs and Stories for Moby Dick, a multimedia stage performance based on the novel by Herman Melville.Songs and Stories for Moby Dick toured internationally throughout 1999 and 2000. In the fall of 2001, Anderson toured the United States and Europe with a band, performing music from Life on a String. She has also presented many solo works, includingHappiness, which premiered in 2001 and toured internationally through Spring 2003.
Laurie Anderson's visual work has been presented in major museums throughout the United States and Europe. In 2003, The Musée Art Contemporain of Lyon in France produced a touring retrospective of her work, entitled The Record of the Time: Sound in the Work of Laurie Anderson. This retrospective included installation, audio, instruments, video and art objects and spans Anderson's career from the 1970's to her most current works. It continued to tour internationally from 2003 to 2005. As a visual artist, Anderson is represented by the Sean Kelly Gallery in New York. In 2008, the Museum of Modern Art acquired her "Self-Playing Violin" which was featured in the "Making Music" exhibition in Fall 2008.
As a composer, Anderson has contributed music to films by Wim Wenders and Jonathan Demme; dance pieces by Bill T. Jones, Trisha Brown, Molissa Fenley, and a score for Robert LePage's theater production, Far Side of the Moon. She has created pieces for National Public Radio, The BBC, and Expo '92 in Seville. Her most recent orchestra work, Songs for Amelia Earhart, premiered at Carnegie Hall in February 2000 performed by the American Composers Orchestra and later toured Europe with the Stuttgart Chamber Orchestra conducted by Dennis Russell Davies.
Recognized worldwide as a groundbreaking leader in the use of technology in the arts, Anderson collaborated with Interval Research Corporation, a research and development laboratory founded by Paul Allen and David Liddle, in the exploration of new creative tools, including the Talking Stick. She created the introduction sequence for the first segment of the PBS special Art 21, a series about Art in the 21st century. Her awards include the 2001 Tenco Prize for Songwriting in San Remo, Italy and the 2001 Deutsche Schallplatten prize for Life On A String as well as grants from the Guggenheim Foundation and the National Endowment for the Arts. She recently collaborated with Bran Ferren of Applied Minds, Inc to create an artwork to be displayed in "The Third Mind" exhibition at the Guggenheim Museum in New York in Winter 2009.
In 2002, Anderson was appointed the first artist-in-residence of NASA out of which she developed her solo performance "The End of the Moon" which premiered in 2004 and toured internationally through 2006. Other recent projects include a commission to create a series of audio-visual installations and a high definition film, Hidden Inside Mountains, for the World Expo 2005 in Aichi, Japan and an audio journal and accompanying book for French radio called "Nothing in my Pockets." Her score for Trisha Brown's acclaimed piece "O Composite" premiered at the Opera Garnier in Paris in December 2004. Anderson was also part of the team that created the opening ceremony for the 2004 Olympic Games in Athens. In 2007 she received the prestigious Dorothy and Lillian Gish Prize for her outstanding contribution to the arts. Anderson's newest solo performance, "Delusion," debuted at the Vancouver Winter Olympics in early 2010 and toured internationally. Anderson lives in New York City.

loading tweets
Coming Up