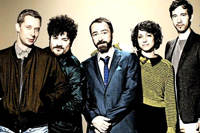 AMP, Heath Concerts & JAW present
The Shins
Washed Out
Sad Baby Wolf
Time: 7:30pm Day: Thursday Doors: 6:30pm Ages: All Ages
This Event Has Ended
Tickets are $33, $38 and $43 (including all service charges). 
In the unlikely event of a cancellation, service charges are not refunded.
Tickets are also available through Hold My Ticket (112 2nd St SW), 505-886-1251, Monday to Friday, 11 AM-6 PM.
The Shins began in 1996 as a side project for singer/songwriter James Mercer, whose primary band was Flake Music in Albuquerque. For their earliest shows, The Shins performed as a duo with Mercer recruiting Jesse Sandoval to play drums. Initially, Mercer had no expectations of expanding the band's following beyond Albuquerque. However, at a performance with Modest Mouse in 2000, Sub Pop's Jonathan Poneman asked The Shins to contribute a single to the label's Single of the Month Club, which eventually became an offer to release The Shins' 2001 single, "New Slang," and their debut album, Oh, Inverted World. The release of singles such as "Know Your Onion!" and "The Past and Pending" kept The Shins' success going into 2002, cementing Oh, Inverted World as one of the definitive indie-rock albums of the early '00s and The Shins as one of the genre's leading younger bands. It received critical acclaim for its lyrically deft and jangly pop sound. Two songs from the album ("Caring Is Creepy" and "New Slang") were featured prominently on the soundtrack for the 2004 film "Garden State," starring and directed by Zach Braff, exposing the music of The Shins to a much wider audience.
The band relocated from Albuquerque to Portland, OR in 2001. Chutes Too Narrow was released by Sub Pop in the fall of 2003 to much fanfare in indie music circles, featuring even more multi-layered lyrics, as well as a musical approach that explored new genres, song structures, and levels of production fidelity. Nonstop touring of everywhere from Australia to Norway, as well as the US countless times over, contributed to pushing sales past 500,000 worldwide, exceeding everyone's expectations, including the band's.
The band's third album, Wincing the Night Away, was recorded in Portland during 2006 by a largely solo Mercer, but with the production assistance of Joe Chiccarelli. It was released on January 23, 2007 and debuted at number 2 on the Billboard 200 album chart with 118,000 copies sold in its first week, the highest sales week and chart position an album released solely on Sub Pop has ever achieved. It was nominated for a 2008 Grammy award in the category of Best Alternative Music Album.
Their latest release, Port of Morrow, has been called the band's "most satisfying achievement" (Boston Phoenix).
Opening the show will be Washed Out and Sad Baby Wolf. Washed Out is the moniker of 28-year-old Ernest Greene, who recorded his first tracks on a laptop in his parents' Georgia home. Now, he's a wonder of the "chillwave" movement and the man behind some of the year's most alluring electronic sounds. Washed Out's debut album, Within and Without (Sub Pop), builds a textured pop soundscape atop pulsing dance beats. True to his digital roots, Greene posted his early recordings on MySpace, where they drew the attention of many prominent music blogs. He adapted quickly to the demands of playing live shows at clubs and festivals, both on his own and with the support of the New York band Small Black. Washed Out's sound is an ornate blend of murky vocals buried beneath layers of synths, strings and beats—a complex web tied together by Greene's melodies and mysterious voice. 
Sad Baby Wolf features former Shins members Marty Crandall and Neal Langford, along with Jason Ward, Sean McCullough and Marty's brother Maury Crandall. The band initially formed for what they assumed was a quick one-off gig at a benefit concert. What might have started out in the backyard sounding like vintage shoegaze with some country lilt soon slides into darker terrain when Jason, who comes from a heavier rock perspective, riffs on it. In Neal's hands the songs progress down loopy, psychedelic detours, and Maury might add an unexpected beat that completely shifts the emotional movement.
---

loading tweets
Coming Up