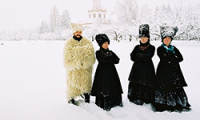 ¡Globalquerque! presents
DakhaBrakha
Goddess of Arno
Time: 7:30pm Day: Monday Doors: 6:30pm Ages: 21+ Ages
This Event Has Ended
1 Ticket momentarily available!  If the button says Buy Tickets - go for it!
This show is sold out!  In this case, that's 100% sold out.  We will not have any tickets for sale at the door.
DakhaBrakha is playing in Taos on Tuesday and Socorro on Wednesday.  There are still tickets available for both of those shows.
The Dirty Bourbon is rigidly 21 and over.  They will not let you in without an ID.  There is limited seating and a great dance floor.
Europa Roaming Kitchen and Karibu Cafe will be on-hand serving a mix of European cuisines, so come hungry!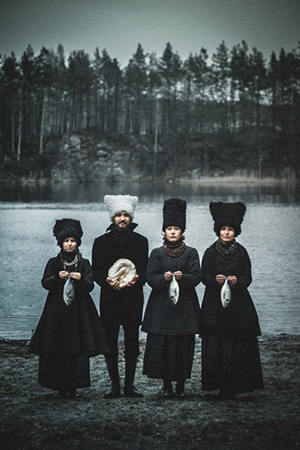 End ¡Globalquerque!'s 10th Anniversary year with a special concert with one of the most popular acts to ever grace the festival!
A shadowy procession to the pounding of drums, to the murmur of a cello, morphs into an anthem, an invocation, a wild and wacky breakdown. Drones and beats, crimson beads and towering black lambs-wool hats all serve as a striking backdrop for an unexpected, refreshingly novel vision of Eastern European roots music. This is the self-proclaimed "ethno-chaos" of Ukraine's DakhaBrakha, a group that feels both intimately tied to their homeland, yet instantly compelling for international audience.
"We just want people to know our culture exists," says Marko Halanevych of DakhaBrakha. "We want people to know as much as possible about our corner of the world."
The quartet does far more than introduce Ukranian music or prove it is alive and well. They craft stunning new sonic worlds for traditional songs, reinventing their heritage with a keen ear for contemporary resonances. With one foot in the urban avant-garde theater scene and one foot in the village life that nurtured and protected Ukraine's cultural wealth, DakhaBrakha shows the full fury and sensuality of some of Eastern Europe's most breathtaking folklore.
"It's hard to know what to make of Ukrainian band DakhaBrakha when it first arrives on stage—oh, those tall, furry hats! But from the first moment the group starts performing, it's hard not to get caught up in the magic it weaves... it's really the live shows that take DakhaBrakha beyond mere curiosity to utter brilliance."
—NPR Music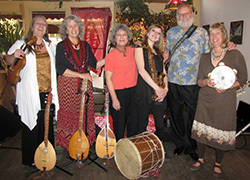 Albuquerque's own Balkan dance band, Goddess of Arno, will open the show. As pioneers of the world music scene in Albuquerque, Goddess of Arno's band members have been performing, teaching & studying traditional Balkan & East European folk music together for over 30 years. This award-winning 5-6 piece ensemble accompanies beautiful solos, 2 and 3-part vocals with traditional ethnic string and percussion instruments as well as violin, guitar, saxophone, and electric bass. The band's repertoire includes fiery instrumentals and traditional songs from Albania, Macedonia, Serbia, Greece, Bulgaria & Hungary—many in the Rom (Gypsy) style and language. The musicians of Goddess of Arno love the exotic rhythms and scales, which the southern Balkans absorbed from the Ottoman Empire, and the passion of the Rom music, which offers opportunities for instrumental improvisation. Goddess of Arno was originally formed as accompaniment to the popular women's Balkan chorus Svirka and later developed its own identity, known for exciting dance parties and concerts. Goddess of Arno has performed throughout the southwest and has produced and performed in concerts and workshops with internationally acclaimed Balkan and Rromani musicians & scholars such as Esma Redzhepova, Yuri Yunakov, Kabile Bulgarian Ensemble & Professors Carol Silverman and Sonya Tamar Seeman. In 2002, Goddess of Arno released its award-winning CD: Balkan Dance Party! 
¡Globalquerque! is presented by AMP Concerts and Avokado Artists.
---


loading tweets
Coming Up