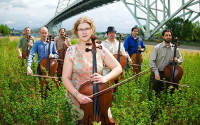 Portland Cello Project
Time: 8:00pm Day: Saturday Doors: 7:00pm Ages: 21+ without parent or guardian Price: $20
This Event Has Ended
Tickets are $22 advance, $27 day of show (including all service charges).  
They are also available through Hold My Ticket (112 2nd St SW), 505-886-1251, Monday to Friday 9 AM - 6 PM, Sat & Sun 11 AM - 6 PM.
This will be a seated show at Skylight!  Floor seating will be General Admission.  There are a limited number of reserved 2-top tables around the second level that are available for $32 per seat (including all service charges).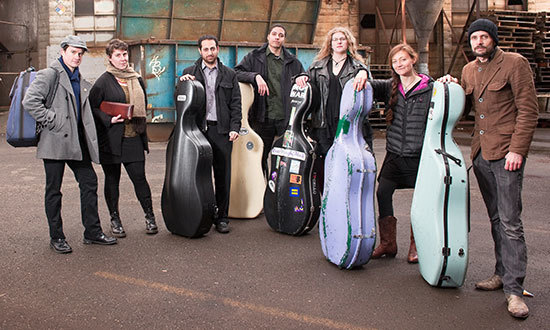 The first time you see the Portland Cello Project perform you might be perplexed when you hear affectionate fans shouting, "We Love PCP!"
In spite of a barrage of musical and visual sensory overload, you'll figure out that you aren't in a crowd of horse-tranquilizer-snorting maniacs, and that "PCP" is the tongue-in-cheek acronym of this group of classically trained cellists.
But you'll wonder what kind of a crowd this is. In the course of one of PCP's epic 2-3 hour shows (the format of which is always a one-time affair—the group writes almost entirely new arrangements for every performance cycle) you'll see such sights as: old ladies, straight out of the symphony hall nodding their head to cello hip-hop; young children playing air cello while dancing to 16 cellos accompanying The Builders and The Butchers; hipsters too-cool-for-school mesmerized by Arvo Pärt; and, of course, a symphony of cellos.
The cello is more-or-less the only constant in this amorphous collective from Portland, Oregon. Yet there is an organizer holding this anarchic display of controlled chaos together. You'll see him sitting in the back row of the cello section at all of these shows, as if to appear an anonymous member of the horde. This is Douglas Jenkins. Jenkins, who often pens 15-20 new scores for each performance, has led the band through two previous CDs of original songs and covers, and has been at the heart of the band's rise to immense popularity in their hometown.
Although it's no longer an anomaly for popular musicians to work with an orchestra, it tends to be on the symphony's terms, in the symphony's concert halls, and for the symphony's exclusive rates. The classically trained cellists of The Portland Cello Project are working to reverse that tradition by making their talents accessible to their guests' wildest dreams, while bringing the instrument into venues where you wouldn't normally see cellos.
"If you could see how crazy everyone around here gets whenever the PCP cello-izes a new hip-hop or pop hit (which is a lot), you'd understand why their Thing is the best Thing going in Portland." (IFC's Portlandia Blog)
"An ace group of rotating cellists who take on everything from Britney's 'Toxic' to the Dandy Warhols and postmodern Estonian composer Arvo Pärt." (Entertainment Weekly)
---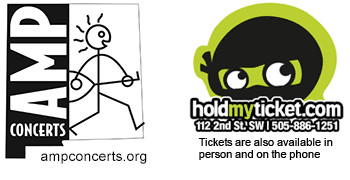 loading tweets
Coming Up