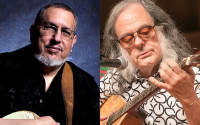 Songs and Stories: 2 Davids
David Bromberg and David Lindley
Time: 7:30pm Day: Sunday Doors: 6:30pm Ages: All Ages
This Event Has Ended
Tickets cost $39, $49 and $59 (plus applicable service charges).  They will also be available from the Lensic Box Office (505-988-1234). 
Two of the most remarkable, unique and eclectic musicians of their time come together for one incredible evening on the Lensic stage.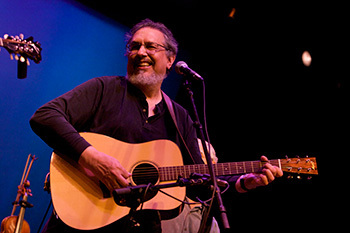 "The reason man created stringed instruments. David touched them with a lover's fingers and they moaned that true love right back at him. Wood and wire and flesh spoke."
—Jerry Jeff Walker on David Bromberg
David Bromberg [web site | Amazon.com] is a strikingly gifted multi-instrumentalist with an intuitive understanding of American roots music styles and a sly sense of humor. David has earned a following for his many solo recordings and has served as a sideman and collaborator with some of the most respected artists in his field. You can tell a lot about a person from the company he keeps; when that company has included Bob Dylan, The Beastie Boys, George Harrison, Emmylou Harris, Doc Watson, John Hiatt, Jerry Garcia, Reverend Gary Davis, Dr. John, Pete Seeger, Willie Nelson, John Prine, Phoebe Snow, Jerry Jeff Walker, and Mississippi John Hurt, you realize you're dealing with a very special case. Bromberg's latest album, Only Slightly Mad, is a return to his genre-bending albums of the Seventies and Eighties. Fans will find blues, bluegrass, gospel, folk, Irish fiddle tunes, pop and English drinking songs happily coexisting as they can only on a Bromberg album. For newcomers, Only Slightly Mad will be an introduction to an astonishing performer whose range and musical depth have delighted devoted audiences for over forty years and will for many years hence.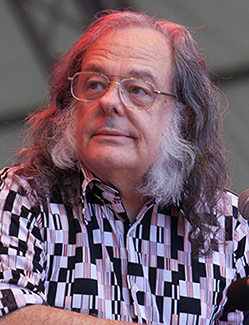 Multi-instrumentalist David Lindley [web site | Amazon.com] performs music that redefines the word "eclectic." The David Lindley electro-acoustic performance effortlessly combines American folk, blues, and bluegrass traditions with elements from African, Arabic, Asian, Celtic, Malagasy, and Turkish musical sources. Lindley incorporates an incredible array of stringed instruments including but not limited to Kona and Weissenborn Hawaiian lap steel guitar, Turkish saz and chumbus, Middle Eastern oud, and Irish bouzouki. The eye-poppingly clad "Mr. Dave's" uncanny vocal mimicry and demented sense of humor make his onstage banter a highlight of the show.
David Lindley grew up in southern California, first taking up the banjo as a teenager, and subsequently winning the annual Topanga canyon banjo and fiddle contest five times as he explored the American folk music tradition. Between 1967 and 1971 Lindley founded and lead what must now be seen as the first world music rock band, the Kaleidoscope. In 1971, Mr. Dave joined forces with Jackson Browne, serving as Jackson's most significant musical co-conspirator until 1981. Lindley created his own Band El Rayo-X in the early 80s, integrating American roots music and world beat with a heavy reggae influence.
Lindley and guitarist Henry Kaiser went to Madagascar for two weeks in 1991 and recorded six albums of indigenous Malagasy music, which proved to have a major impact on the world music scene, both for the quality of the Grammy nominated music recorded, and the fair and ethical way the Malagasy musicians were dealt with.
Throughout his long and distinguished career, Lindley has been one of Hollywood's most in demand session musicians, lending his skills to the recorded works of Bob Dylan, Rod Stewart, Linda Ronstadt, Crosby and Nash, Warren Zevon, and many others.
---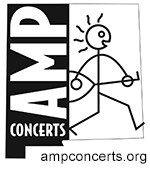 loading tweets
Coming Up