Please take a moment to visit LevittAMP.org and VOTE for Santa Fe to win $25000 to bring free concerts BACK to the Railyard in 2020! Make Santa Fe a four time winner of this national grant program to bring communities together! While there, please vote for our friends in Gallup as well who are trying to win a grant for the first time this year!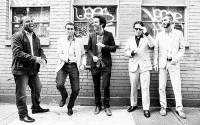 AMP Concerts, Melaza Music, and the National Hispanic Cultural Center Present
Los Hacheros
Time: 7:30pm Day: Sunday Doors: 6:30pm Ages: All Ages
This Event Has Ended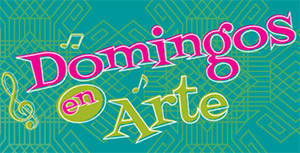 Domingos en Arte is a summer music and dance series presented by Melaza Music, AMP Concerts, and the National Hispanic Cultural Center in the NHCC's Fountain Courtyard. We have invited some of our musician friends, from the local community and outside, for lively community get-togethers right next to the beautiful Rio Grande Bosque. Spend Sunday evenings enjoying live music, drinks, and delicious Latin cuisine with family and friends in this enchanting courtyard setting, with one or all of the groups who will be performing this season.
Tickets cost $17 (plus applicable service charges). Admission is free for children 12 and younger; tickets are available online as well as from the NHCC Box Office, in person or by phone at (505) 724-4771.
Enjoy a little taste of the Caribbean and South America courtesy of Guava Tree Cafe.
Pop Fizz will be on hand with their homemade paletas and treats.
Canvas Artistry will be running the bar.
We'll have loaner parasols for you to beat the heat too!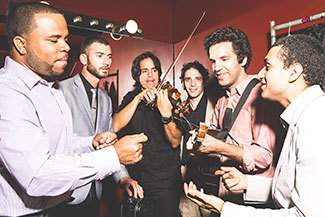 Brooklyn's Los Hacheros, modern-day torchbearers of the Golden Age of Latin music, revives folkloric styles like son montuno, guaracha and salsa, and often combine them with Bomba, a fiery rhythm from the mountains of Puerto Rico. "Los Hacheros has the magic of group improvisation," says bassist William Ash.  "We play in a style that is swing oriented and emphasizes the Cuban clave like great ones of old: Arsenio, Reve, Ritmo..."
A band of only 5 musicians, Los Hacheros can sound like a conjunto of 12. Eddie Venegas (Marc Anthony, Orquestra Broadway), who plays violin and sings chorus, improvises mambos on the trombone, Itai Kriss (Edmar Castaneda, Grupo Latin Vibe) sings, plays flute, campana, and guiro, while Papote Jimenez is in charge of lead vocals, soulful soneos (improvised verses) and congas. William Ash (Alfredo de la Fe, Brenda K Starr) holds down the tumbaos on baby bass while Jacob Plasse plays the tres, a guitar-like instrument originating from the Oriente Province in Cuba.
Their debut album Pilon was a well-received introduction to the band and received critical praise from tastemakers including Wax Poetics, Vibe Magazine, and The Washington City Paper, amongst others. Wax Poetics states, "The groove to this music is deep," while The City Paper boasts, "...its solid arrangements and lively original songs have impressed old-school salseros and young music fans alike."
Los Hacheros recorded their sophomore album Bambulaye live to vintage analog tape, giving the music a raw, but warm and open sound similar to the Latin legends that have inspired them. "Bambulaye was recorded to be gritty, driving, and infectious, with the goal to get you up and dancing from first listen," says producer/guitarist Jacob Plasse. "I wanted this record to feel and sound the way it does when we play our final sets at 3 AM, exhausted in East Harlem dives. Suddenly the band comes to life and all the old dancers are at it like it was 1970 again.  In those moments, we feel like we could play all night."
New Mexico Culture Squared (NMC2) is a NM Department of Cultural Affairs (DCA) project to build and manage partnerships between DCA institutions and cultural organizations that will enhance the impact, effectiveness, attendance, and visitor experience of exhibits and programs of DCA entities. Under the management of AMP Concerts, NMC2 will create programs in collaboration with State Historic Sites, DCA Museums and various cultural organizations with the goal of increasing public programs statewide and promoting New Mexico as a destination for arts and culture.
---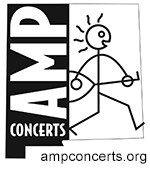 loading tweets
Coming Up