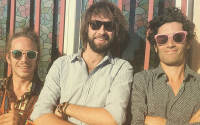 ENGINE
Time: 7:30pm Day: Friday Doors: 7:00pm Ages: All Ages
This Event Has Ended
Tickets are $15 and $20 (including all service charges). They are also available by phone through Hold My Ticket at 505-886-1251.
Thanks to a unique set of occurrences, the group ENGINE has temporarily located to Albuquerque.  During their time here, we've been hosting a weekly Wednesday residency with them at Dialogue Brewing (which are all selling out!), leading up to a finale concert at South Broadway Cultural Center in Friday, May 4.
The Encuentros Intimos (Intimate Encounters) we have been doing at Dialogue have been such a big hit that we wanted to bring a taste of that to Santa Fe.
Help ENGINE fund the recording of their new CD while they are here in New Mexico!
Click here for a full schedule of ENGINE's programs.
ENGINE is a powerful musical and theatrical act, based on two dancing guitars and a harmonica overlapped by the raw blending of three actor-musicians' voices. The songs are a weave of Latin American rhythms, rich harmonies and rock dynamics, interspersed by simple yet powerful theatrical eruptions. The protagonists sing ceaselessly and dance scandalously, sometimes on stage and sometimes in the audience. ENGINE, the invisible machine, provides the concert's rhythm. People may wonder: how can just three people create such a sublime mess?
For over four years, Alejandro Tomás Rodriguez (Argentina) and Robin Gentien (France) have been traveling the world sharing various musical and theatrical performances. They have also been teaching, exposing themselves to a multiplicity of cultures and communities, and incorporating all their experiences into their art and craft. In 2016, they were joined by Pierre Lauth-Karson (France), creating the final cog in the ENGINE.
The heart of the trio's music flows from their guitars with a rock energy, a funky groove, blues, flamenco and Latin rhythms. This flow also breathes through the harmonica with unexpected brass sounds, Argentinian bandoneon colors and Texan desert imagery, as well as through the three voices calling and answering each other in Spanish, English, French and Italian. This fiercely entertaining concoction is composed of beautiful poems and ironic yet profound reflections that are alternately sensitive, relevant and timely. The audience gets carried along with the flow, having no choice but to listen, dance, clap, laugh and be touched by ENGINE.
---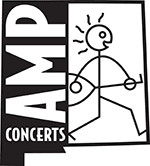 loading tweets
Coming Up