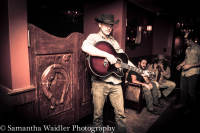 Levitt AMP Santa Fe Music Series at the Santa Fe Railyard
Anthony Leon & The Chain - FREE SHOW
Escape On a Horse
Time: 7:00pm Day: Saturday Doors: 6:30pm Ages: All Ages Price: FREE
This Event Has Ended
The Levitt AMP Santa Fe Music Series is supported in part by the Mortimer & Mimi Levitt Foundation, a private foundation that empowers towns and cities across America to transform underused public spaces into thriving destinations through the power of free, live music. In 2018, more than 150 free Levitt concerts will take place in 15 towns and cities, featuring a rich array of music genres and high caliber talent. Learn more at levitt.org.
Register for the event and we'll also send you updates if there are any schedule changes as well as info on future free Railyard programs and events around Santa Fe and Albuquerque.
Join your Santa Fe neighbors on the Railyard Plaza beside the landmark Water Tower for great FREE concerts all summer long.
Feel free to bring chairs to the concert.
Food and drink are available inside Second Street Brewery and Violet Crown Cinema.
Come down early to get a spot on the Second Street Brewery patio to enjoy a a cold beer with the music!
Violet Crown has patio drink & dining options too.
Ample parking is available in the underground garage just north of REI.
Download a map (JPG) showing all of the Railyard parking and transportation options.
Bike to the Railyard this summer. We are encouraging safe bicycling to the Railyard Series using the Acequia Trail and St Francis Underpass. "Bike Valet" available on site by donation supporting multiple bicycle advocacy organizations and charities. Powered by Mellow Velo!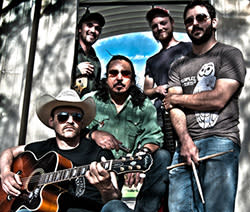 Anthony Leon & The Chain is a "Two Steppin' Head Bangin'" Alternative Country Rock band in the vein of Old 97s and Uncle Tupelo. Based out of Santa Fe, Anthony Leon & The Chain is described by fans as Rockin' Honky Tonk with a touch of indie pop. Landing somewhere in between Steve Earle and Social Distortion, Anthony Leon & The Chain are a vigorous and talented group of musicians who lace rock and roll with twang and poetry with angst. Comfortable performing both in intimate venues and on big stages, this four piece turns their passion to sweat when they hit the stage, dripping infectious "good time" energy.
"With a raspy growl to a mournful howl, Anthony Leon spins tales of loss, longing and faithless women. Throw in several mentions of whiskey, guns and guys down on their luck, and you've got an idea of what to expect when he takes the stage with The Chain." (Albuquerque Journal)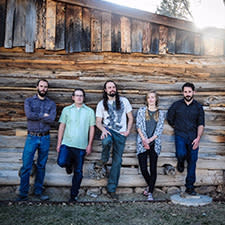 Escape On a Horse is the collaborative effort of musicians Daniel Jaramillo, Allisyn Stanfield, Andrew Stocker and David Fellenz, who met and convened in Northern New Mexico. Between lead songwriter Jaramillo's rootsy approach and the multi-instrumentalist/vocalist Stanfield's talents, they have created a congruous union over top the solid rhythm foundation brought by Stocker and Fellenz. EOAH has developed an eclectic blend of alt-country mixed with a smattering of soul and rock that's not without their own brand of wry humor.
---

loading tweets
Coming Up