BUY STUFF AND SUPPORT AMP!
A percentage of every Amazon purchase made after clicking on this link is donated to AMP. An easy and fun way to show support. Happy shopping! Or click here to make a tax deductible donation to AMP.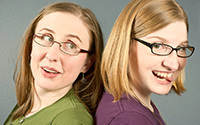 The Doubleclicks
Time: 12:00pm Day: Tuesday Doors: 11:00am Ages: All Ages
This Event Has Ended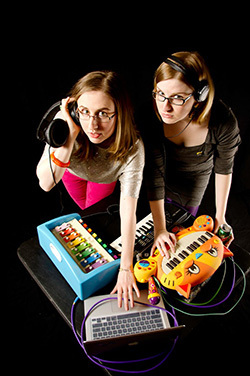 The Doubleclicks are a pair of sisters—Angela Webber and Aubrey Webber—who sing about Dungeons & Dragons, dinosaurs, and Mr. Darcy. They play cello and ukulele. They have been called snarky, geeky, and sweet. Their latest album, Lasers & Feelings, includes songs about Mars Curiosity, meeting people on the Twitter, and Geek Girl pride, and debuted in the top 10 on the Billboard comedy charts. Their single for that album, a geek girl anthem called "Nothing to Prove," has been viewed over 1 million times on YouTube. The Doubleclicks tour the country regularly, playing at game stores, comic shops, and conventions, and have shared bills with nerd and comedy superstars including Jonathan Coulton, Paul and Storm and Wil Wheaton.
This show is especially geared toward kids and families! The Doubleclicks will be performing songs from their children's album, Worst Superpower Ever, which has advice for velociraptors and songs about vampires, superheroes and grammar. Take a visit to Uncle Geek's House, where we all get pie at 3:14; sing happy birthday the nerdy way; hear about the inner struggles of apostrophes; and at the end of it all, crawl into bed and sing a lullaby to your teddy bear.

This is the latest in a monthly series of free events in collaboration with the Friends for the Public Library.

---

loading tweets
Coming Up