BUY STUFF AND SUPPORT AMP!
A percentage of every Amazon purchase made after clicking on this link is donated to AMP. An easy and fun way to show support. Happy shopping! Or click here to make a tax deductible donation to AMP.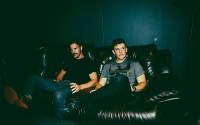 Levitt AMP Santa Fe Music Series
El Ten Eleven
Future Scars
Time: 7:00pm Day: Saturday Doors: 6:00pm Ages: All Ages Price: FREE
This Event Has Ended
Register for the event and we'll also send you updates if there are any schedule changes as well as info on future free Railyard programs and events around Santa Fe and Albuquerque.
Join your Santa Fe neighbors on the Railyard Plaza beside the landmark Water Tower for great FREE concerts all summer long.
Feel free to bring chairs to the concert.
Food and drink are available inside Second Street Brewery and Violet Crown Cinema.
Come down early to get a spot on the Second Street Brewery patio to enjoy a a cold beer with the music!
Violet Crown has patio drink & dining options too.
Ample parking is available in the underground garage just north of REI.
Download a map (JPG) showing all of the Railyard parking and transportation options.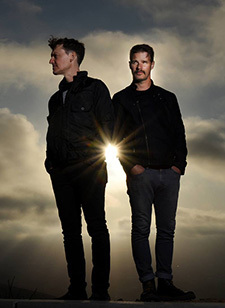 Los Angeles-based post-rockers El Ten Eleven will perform on the Levitt AMP stage as part of the Santa Fe Currents New Media Festival's opening weekend.
"I really hope people don't say that we are a math rock band!" doubleneck guitar/bass virtuoso Kristian Dunn exclaims while discussing his duo, El Ten Eleven [website | Amazon.com]. Acoustic and electronic drummer Tim Fogarty adds, "We get labeled all kinds of things from post-rock to ambient to experimental... all of those make us cringe. So far my personal favorite label for the band has been 'Power Duo'... it's kind of ridiculous but I like it." 
Armed with merely a doubleneck bass/guitar, drums and a dizzying array of foot pedals, the band creates complex, deeply felt music, from scratch, onstage, with no help from laptops, click tracks or additional musicians. They utilize multiple looping pedals to create songs that sound as though they are being played by at least six people. Most first-timers to an El Ten Eleven show are stunned that the band is a duo. 
"Dunn and Fogarty manage to get a lot out of such a limited setup, and given their tight musicianship combined with electronic drum sounds and pedals, their music often seems like it's programmed, even though it's all played live. Their sixth full-length album Fast Forward is one of their breeziest, most danceable albums yet, with a few tracks having a pleasant New Order vibe to them. Fogarty's father passed away shortly before the album was recorded, so there's a twinge of melancholy to the album, but the group's bittersweet melodies are far more celebratory than gloomy. Fast Forward is a sunny, enjoyable album showcasing El Ten Eleven at their most inventive as well as accessible." (All Music Guide)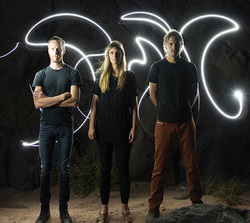 Founded in 2015 by members of As In We, Future Scars boasts a lineup of dedicated musicians seasoned with nearly a decade of cooperative experience. Emotionally rooted in the contemplative, melodic atmosphere of post-rock, Future Scars expands beyond a singular genre's expectations, often times overflowing into the domain of sheer intensity and fervor. The group couples these drastically varied, yet complementary components with the recurrent flurries of heart-wrenching vocals, creating an aura of earnest exhilaration and beauty. Laced with technicality and the prowess of control, Future Scars construct a sound balanced in adversity, soothing and cathartic yet all the while anxious with anticipation.
The Levitt AMP Santa Fe Music Series is supported in part by the Mortimer & Mimi Levitt Foundation, a private foundation that empowers towns and cities across America to transform underused public spaces into thriving destinations through the power of free, live music. In 2017, more than 450 free Levitt concerts will take place in 22 towns and cities, all featuring a rich array of music genres and high caliber talent. Learn more at levitt.org.
---


loading tweets
Coming Up