BUY STUFF AND SUPPORT AMP!
A percentage of every Amazon purchase made after clicking on this link is donated to AMP. An easy and fun way to show support. Happy shopping! Or click here to make a tax deductible donation to AMP.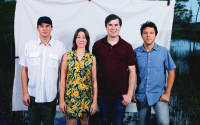 Levitt AMP Santa Fe Music Series
Oasis Teen Arts and Music Fest
featuring Surfer Blood
Time: 7:00pm Day: Saturday Doors: 6:00pm Ages: All Ages Price: FREE
This Event Has Ended
Register for the event and we'll also send you updates if there are any schedule changes as well as info on future free Railyard programs and events around Santa Fe and Albuquerque.
Join your Santa Fe neighbors on the Railyard Plaza beside the landmark Water Tower for great FREE concerts all summer long.
Feel free to bring chairs to the concert.
Food and drink are available inside Second Street Brewery and Violet Crown Cinema.
Come down early to get a spot on the Second Street Brewery patio to enjoy a a cold beer with the music!
Violet Crown has patio drink & dining options too.
Ample parking is available in the underground garage just north of REI.
Download a map (JPG) showing all of the Railyard parking and transportation options.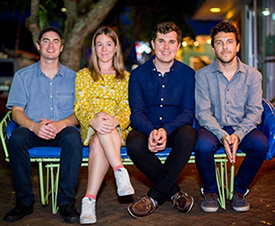 Renowned indie rockers Surfer Blood will headline the second annual student-produced Oasis Festival, a Santa Fe music and arts festival geared toward teens. 
Surfer Blood [website | Amazon.com] are one of the best young indie-rock bands around. Overcoming adversity, the band has artistically grown and thrived. Following the departure of bassist Kevin Williams and guitarist Thomas Fekete (tragically lost to cancer), singer/guitarist John Paul Pitts and drummer Tyler Schwarz have rebuilt a talented line-up with guitarist Michael McCleary and bassist Lindsey Mills, all four alumni of the same high school in West Palm Beach, Florida.  
For their latest album, Snowdonia, Pitts wrote specifically with the new band's talents in mind: "When I was writing I was thinking more about background vocals and harmonies. Lindsey and Michael are great singers, and I really wanted that to show in the songs. There are layers of vocals on almost every track, and the call-and-response parts between Lindsey and I are something totally new."
Along with plenty of Surfer Blood's signature hooks, the band concocted some epic and more complex songs with enormous attention to sonic detail. Pitts wrote and mixed the album alone, for the first time since their debut Astro Coast. The immediacy is intoxicating and the musical and lyrical results are fantastic.
The Levitt AMP Santa Fe Music Series is supported in part by the Mortimer & Mimi Levitt Foundation, a private foundation that empowers towns and cities across America to transform underused public spaces into thriving destinations through the power of free, live music. In 2017, more than 450 free Levitt concerts will take place in 22 towns and cities, all featuring a rich array of music genres and high caliber talent. Learn more at levitt.org.
---


loading tweets
Coming Up