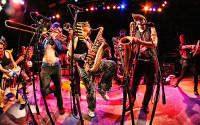 The Santa Fe Animal Shelter and Subaru of Santa Fe presents
Dog Days of Summer featuring MarchFourth!
Greyhounds
Red Light Cameras, Innastate
Time: 3:00pm Day: Sunday Ages: All Ages
This Event Has Ended
Tickets are $21 in advance, $26 day of show (including all service charges). They are also available through Hold My Ticket (112 2nd St SW), 505-886-1251, Monday to Friday 9 AM - 6 PM, Sat & Sun 11 AM - 6 PM.
VIP Concert Tickets (includes swag cup, access to VIP section close to the stage & $10 donation to SFAS) are available for $36 in advance, $41 day of show (including all service charges).
All ages show. Beer and wine is available with ID.
The Bridge outdoor venue is a unique, open-air space with mountains on one side and an award-winning brewery on the other. The show will be held rain or shine.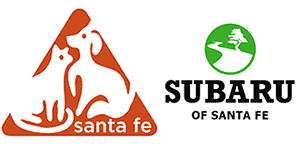 Dog Days of Summer, presented by Subaru of Santa Fe, is a fun-filled day for the whole family, including pups! Taking place at the Santa Fe Brewing Company's The Bridge, this event features stellar live music, an on-site Meow Wolf Activation, games for dogs and their people, vendor booths, food trucks, face painting, and more! All proceeds go toward the Santa Fe Animal Shelter's life saving work. All ages welcome. Visit sfasdogdays.com for more info!
Schedule:
Doors Open at 3 PM
3:30-4:30 PM: Innastate
4:30-6 PM: Greyhounds
6-7 PM: Red Light Cameras
7-9 PM: MarchFourth!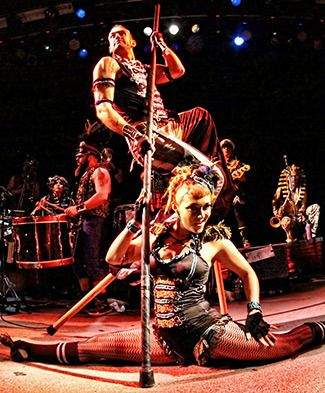 MarchFourth! [web site | Amazon.com] is an internationally-acclaimed, genre-breaking force in the world of entertainment—a sonic explosion delivered by 20 musicians, dancers and artisans who travel the world, year-round, taking audience members of all ages, from all walks of life, on a joy-inducing, foot-stomping, booty-shaking, soul-stirring journey that defies categorization.
With exceptional musical quality and a visual kaleidoscope of stilt walkers, hoopers and Vaudeville-style dancers, MarchFourth! whips audiences into a celebratory frenzy with an over-the-top spectacle of high-energy compositions, colorful costumes, hilarious stage shenanigans, and irresistible charisma.
This is not a band that simply "puts on a show." MarchFourth! delivers a multi-faceted, indelible experience for those who are lucky enough to be in attendance. If you have ever been to one of their performances then you know it is all this and more. 
What began as a Fat Tuesday party on March 4, 2003 in Portland, Oregon has over the last decade become one of the nation's best live touring acts. In one 90-minute set the band will take you on a journey from the swamps of Louisiana to the gypsy camps of eastern Europe to the African jungle by way of Brazil, along the way stopping to sample the deepest grooves of the best of American funk, rock, jazz and boiling it all together in cinematic fashion with high-stepping stilt-acrobatics and sexy dancers. This genre-busting approach is usually the territory of DJs, but this band is real people making music and art in real time—and every show is different.
At the core of the band is its DIY ethic. The band has been writing and arranging all of its own material, designing and fabricating its own costumes and merchandise, developing its own choreography and managing itself from Day One. MarchFourth! has been touring relentlessly; akin to a team sport with a roster of nearly 30 performers to choose from, the band tours with approximately 8 horns, 5 drummers, bass, guitar, and 5 dancers/stiltwalkers.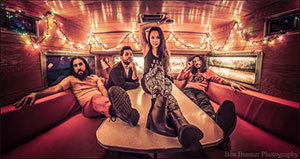 Formed in Albuquerque, NM, Red Light Cameras plays a mix of soulful rock and garage pop. The group has been playing since 2010, supporting such acts at Dum Dum Girls, Said the Whale, and Girl in a Coma. Their debut, self-titled album was recorded at ¿Que? Studio in Albuquerque and released in October 2011, garnering them Local iQ's Best Band in Albuquerque.
Red Light Cameras' follow-up EP, For Those Who Favor Fire, garnered them a New Mexico Music Award for Best Pop Album of 2013 and a repeat Best Band award from the Local iQ. The band's infectious hooks and bouncing beats are destined to have you on the dance floor, and their high energy performance is sure to keep you coming back for more.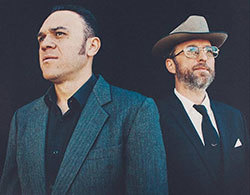 As Greyhounds, guitarist Andrew Trube and keyboardist Anthony Farrell have been making music and touring for 15 years, refining and developing a sound Trube calls "Hall and Oates meet ZZ Top." Now based out of Austin, TX, the band also has long ties to Memphis, home of the soul that inspires them.
Trube and Farrell first met while living in California, where an L.A. Weekly classified ad brought them together. The connection between the guitarist and keyboard player was instantaneous, and the remarkable magic they conjure together has since earned them widespread attention from critics and peers alike. Derek Trucks raved that "Greyhounds make real music, the right way and for the right reasons," while JJ Grey described their songs as landing "somewhere between a heartfelt hymn and the dirtiest jank you've ever heard in your life," and Gary Clark Jr. summed up a recent LA show by tweeting simply that they "crushed it as usual." Meanwhile, Esquire hailed their debut as "intoxicating [and] gut-wrenchingly lovely," USA Today compared them to "The Meters, Earl Hooker and Buck Owens," and Texas Monthly fell under the spell of their "ringing guitar... bluesy swagger, and all the pain a strained falsetto can convey."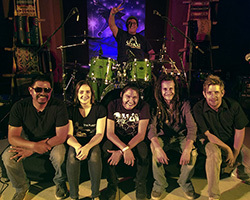 Innastate is a contemporary reggae band from the high-desert of New Mexico. Based out of Santa Fe, the band has been together since the spring of 2014. Innastate has gained momentous acclaim in their brief existence. The band's musical influences span many genres, creating a brand of reggae and rock that is modern yet honors their Indigenous heritage, musical roots and love of music. The music that Innastate creates reflects on the human experience, other themes concerning spirituality and environmental issues are often found within their songs. Innastate believes in the power of music to connect people.
The band released their debut self-titled EP in April of 2015 to wide acclaim and through a strong social media presence was subsequently voted by their fans as the Artist of the Month in RockwiredMagazine.com. Innastate has shared the stage with reggae greats Pato Banton, Native Roots, Natural Vibrations, Stick Figure, Through the Roots and Abstract Rude. Innastate has plans to close out 2015 by heading back into the studio to record a full-length album and continue to create new fans by playing live shows.

---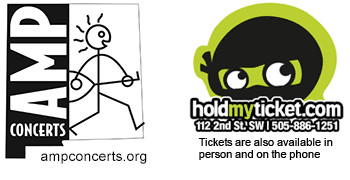 loading tweets
Coming Up