BUY STUFF AND SUPPORT AMP!
A percentage of every Amazon purchase made after clicking on this link is donated to AMP. An easy and fun way to show support. Happy shopping! Or click here to make a tax deductible donation to AMP.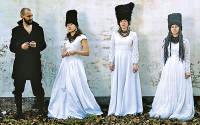 Levitt AMP Santa Fe Music Series
DakhaBrakha
Cloacas
Time: 7:00pm Day: Saturday Doors: 6:00pm Ages: All Ages
This Event Has Ended
Register for the event and we'll also send you updates if there are any schedule changes as well as info on future free Railyard programs and events around Santa Fe and Albuquerque.
Join your Santa Fe neighbors on the Railyard Plaza beside the landmark Water Tower for great FREE concerts all summer long.
Feel free to bring chairs to the concert.
Food and drink are available inside Second Street Brewery and Violet Crown Cinema.
Come down early to get a spot on the Second Street Brewery patio to enjoy a a cold beer with the music!
Violet Crown has patio drink & dining options too.
Ample parking is available in the underground garage just north of REI.
Download a map (JPG) showing all of the Railyard parking and transportation options.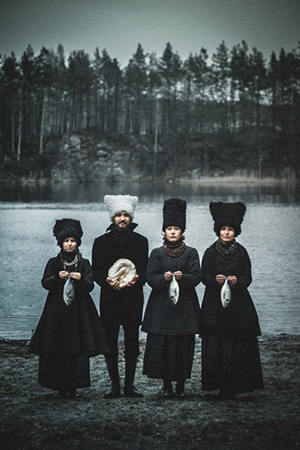 A shadowy procession to the pounding of drums, to the murmur of a cello, morphs into an anthem, an invocation, a wild and wacky breakdown. Drones and beats, crimson beads and towering black lambs-wool hats all serve as a striking backdrop for an unexpected, refreshingly novel vision of Eastern European roots music. This is the self-proclaimed "ethno-chaos" of Ukraine's DakhaBrakha, a group that feels both intimately tied to their homeland, yet instantly compelling for international audience.
"We just want people to know our culture exists," says Marko Halanevych of DakhaBrakha. "We want people to know as much as possible about our corner of the world."
The quartet does far more than introduce Ukranian music or prove it is alive and well. They craft stunning new sonic worlds for traditional songs, reinventing their heritage with a keen ear for contemporary resonances. With one foot in the urban avant-garde theater scene and one foot in the village life that nurtured and protected Ukraine's cultural wealth, DakhaBrakha shows the full fury and sensuality of some of Eastern Europe's most breathtaking folklore.
"It's hard to know what to make of Ukrainian band DakhaBrakha when it first arrives on stage—oh, those tall, furry hats! But from the first moment the group starts performing, it's hard not to get caught up in the magic it weaves... it's really the live shows that take DakhaBrakha beyond mere curiosity to utter brilliance."
—NPR Music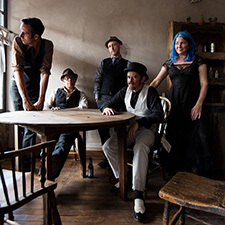 Cloacas composes the imagined folk music of a fictional country, eclipsing time, tradition, and geography. A tiny mountain orchestra in a wooden box with rusty hinges. Listening to Cloacas is like traveling sideways in time.
"Cloacas turns out predominantly instrumental acoustic-folk tunes that are at times mournful and hypnotizing and at other times almost jazzy and vaudevillian in a playful, semi-improvisational way. It's the kind of music that deserves to be played over a silent film about being stranded in a dusty Western ghost town with the love of your life, a jug of whiskey (or absinthe), and physical manifestations of your most fond hallucinations and troublesome inner demons." (Rob DeWalt, Santa Fe New Mexican Pasatiempo)
The Levitt AMP Santa Fe Music Series is supported in part by the Mortimer & Mimi Levitt Foundation, a private foundation that empowers towns and cities across America to transform underused public spaces into thriving destinations through the power of free, live music. In 2017, more than 450 free Levitt concerts will take place in 22 towns and cities, all featuring a rich array of music genres and high caliber talent. Learn more at levitt.org.
---


loading tweets
Coming Up