BUY STUFF AND SUPPORT AMP!
A percentage of every Amazon purchase made after clicking on this link is donated to AMP. An easy and fun way to show support. Happy shopping! Or click here to make a tax deductible donation to AMP.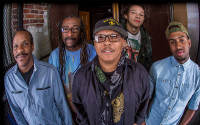 Levitt AMP Santa Fe Music Series
Dumpstaphunk
The Sticky
Time: 7:00pm Day: Saturday Doors: 6:00pm Ages: All Ages Price: FREE
This Event Has Ended
Register for the event and we'll also send you updates if there are any schedule changes as well as info on future free Railyard programs and events around Santa Fe and Albuquerque.
Join your Santa Fe neighbors on the Railyard Plaza beside the landmark Water Tower for great FREE concerts all summer long.
Feel free to bring chairs to the concert.
Food and drink are available inside Second Street Brewery and Violet Crown Cinema.
Come down early to get a spot on the Second Street Brewery patio to enjoy a a cold beer with the music!
Violet Crown has patio drink & dining options too.
Ample parking is available in the underground garage just north of REI.
Download a map (JPG) showing all of the Railyard parking and transportation options.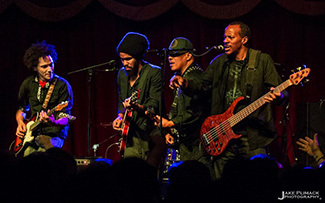 Dumpstaphunk [website | Amazon.com] stands out among New Orleans' best as one of the funkiest bands to ever arise from the Crescent City. Born on the Jazz & Heritage Festival stage, and descended from Neville family bloodlines, these soldiers of funk ignite a deep, gritty groove that dares listeners not to move. Their performances combine ingenious musicianship and complex funk and jazz arrangements with soulful melodies that are simple enough for anyone to enjoy. In Big Easy tradition, dueling basslines from Tony Hall and Nick Daniels III set off one of the dirtiest rhythm sections on the planet, while Ivan Neville lights up the Hammond B3 keys and cousin Ian Neville's funky guitar riffs send the groove into overdrive. The band recently welcomed their newest member, Alvin Ford Jr. to the quintet, a New Orleans born and raised powerhouse drummer. Dumpstaphunk tosses around lead vocals and four-part harmonies the way Sly & the Family Stone did, but with three studio albums under their belt, Dumpstaphunk stands on the merit of their own material. Songs like "Dancin' To The Truth"offer an escape into the funky sublime, sharing the true spirit of New Orleans with every note.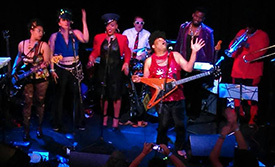 The Sticky is a live funk collective made up of creatives from Santa Fe who are at the top of their craft. The Sticky's mission is to use the essential tools of layered vocal harmonies, pocket explorations, and Purple Love to assist all in ascending from their lower levels. 40 years of powerful funk & soul anthems are delivered with sickening diva realness and rhythmic precision. "They cover all the bases any music fan could want from incredibly tight instrumentation, gorgeous vocal melodies, outstanding musicianship and, almost most importantly, great fun." (Santa Fe Reporter)
The Levitt AMP Santa Fe Music Series is supported in part by the Mortimer & Mimi Levitt Foundation, a private foundation that empowers towns and cities across America to transform underused public spaces into thriving destinations through the power of free, live music. In 2017, more than 450 free Levitt concerts will take place in 22 towns and cities, all featuring a rich array of music genres and high caliber talent. Learn more at levitt.org.
---


loading tweets
Coming Up