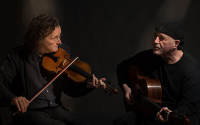 Martin Hayes & Dennis Cahill
Time: 7:30pm Day: Wednesday Doors: 7:00pm Ages: All Ages
This Event Has Ended
Tickets are $22 in advance, $27 day of show (including all service charges). They are also available through Hold My Ticket (112 2nd St SW), 505-886-1251, Monday to Friday 9 AM - 6 PM, Sat & Sun 11 AM - 6 PM.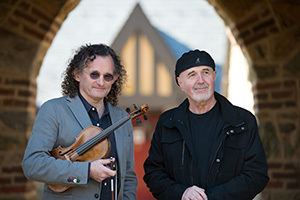 "You're about to watch one of the best fiddlers on the planet and a subtle guitar master work their magic. For a moment, stop, put aside your notion of jigs and reels, and just listen."
—NPR
Martin Hayes and Dennis Cahill are two of the world's leading artists in traditional Irish music. Their adventurous, soulful interpretations of traditional tunes are recognized the world over for their exquisite musicality and irresistible rhythm. For over two decades, the Irish fiddler and American guitarist have performed at major concert halls and festivals around the globe. The duo also helped found the new Irish supergroup The Gloaming.
Fiddler Martin Hayes is considered one of Ireland's most innovative and influential musicians. He was raised in a famous musical family in rural Maghera, Feakle, East County Clare where the music he learned from his late father, P. Joe Hayes, the legendary leader of the long-lived Tulla Ceili Band, profoundly influenced his musical accent and ideas. By age 19 Martin had won six All-Ireland fiddle championships. He is the recipient of numerous awards including Folk Instrumentalist of the Year (BBC), Person of the Year (American Irish Historical Society), Spirit Of Ireland award from the Irish Arts Center of NY, and Ireland's prestigious Musician of the Year (Gradam Ceoil TG4). Hayes has drawn inspiration from sources as diverse as Estonian composer Arvo Pärt and jazz genius Myles Davis and early Music icon Jordi Savall but remains grounded in the music he grew up with in East Clare.
Dennis Cahill is a master guitarist from Chicago born to Irish-speaking parents from the Dingle Peninsula in County Kerry. His spare, essential accompaniment to Hayes' fiddle is acknowledged as a major breakthrough for guitar in the Irish tradition. Dennis studied at Chicago's prestigious Music College before becoming an active member of the local music scene. He has performed with such renowned fiddlers as Kevin Burke, Liz Carroll, and Eileen Ivers, as well as many Irish musicians on both sides of the Atlantic. Dennis is also a sought-after producer for musical artists whom he records in his own Chicago studio, as well as an accomplished photographer.
Martin and Dennis met in Chicago in the 1980s, not long after Hayes had arrived in America from Ireland. They formed the jazz/rock/fusion band Midnight Court, which allowed them to experiment with a variety of new music styles. In the early 1990s, they began a new musical relationship, starting with the lyrical music of Martin's native East County Clare. They played long, sometimes thirty-minute sets in concert, starting from the simplest of melodies and building in intensity, never abandoning musicality or rhythm. Their concerts took hold, captivating audiences and critics alike with their combustible, almost telepathic chemistry.
"Our allegiance is to the spirit of the moment," says Hayes of the duo's spellbinding concert appearances. "Our primary wish is that the musical experience be one that lifts our spirits and those of the audience."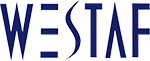 Martin Hayes & Dennis Cahill's performances are made possible in part by a grant from the Western States Arts Federation (WESTAF).
---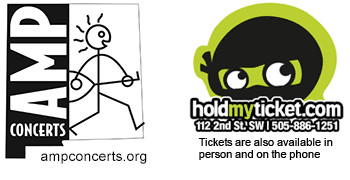 loading tweets
Coming Up