BUY STUFF AND SUPPORT AMP!
A percentage of every Amazon purchase made after clicking on this link is donated to AMP. An easy and fun way to show support. Happy shopping! Or click here to make a tax deductible donation to AMP.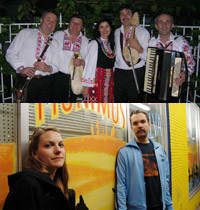 Balkan Halloween Party
with Kabile Bulgarian Wedding Band
but not with A Hawk and a Hacksaw
Time: 7:30pm Day: Wednesday Doors: 7:00pm Ages: All Ages Price: $15
This Event Has Ended
Tickets are $15 in advance, $18 day of show (plus $2 service charge). They are also available through Hold My Ticket (112 2nd St SW), 505-886-1251, Monday to Friday, 11 AM-6 PM.
Unfortunately, A Hawk and a Hacksaw are stuck in NYC.  Kabile will still be on hand and we've got a beautiful warehouse space rented, booze and gourmet candy apples to be consumed and you still have costumes that need to be shown off, so come on out and enjoy a night of traditional Bulgarian dance music in one of the most remarkable undiscovered spaces in Albuquerque.  
Kabile perform the kind of music that inspire A Hawk and a Hacksaw and Beirut.  Jeremy, Heather and Zach have all come to our previous shows with the band at the Cooperage and Jeremy even took private lessons with their accordion player. These guys are the real deal.  It's a different flavor then AHAAH, but with similar rhythms and energy.
Kabile was formed in 1980 and became one of the most popular bands in Thrace. Based in the city of Yambol, the group took its name from the village of Kabile, where they performed one of their earliest gigs. The group specialized in performing native music on traditional village instruments. This form of Bulgarian wedding music has attracted worldwide attention and scholarship for its incredible virtuosity and musicianship. During its heyday, the band played almost every weekend at weddings, baptisms and festivals until Donka Koleva emigrated to the U.S. in 1995. In 2007, Donka and her husband Nikolay returned to Bulgaria to reunite with their former band members.
Kabile plays all the instruments of a traditional Bulgarian village band. The gaida is a bagpipe made of goat skin and pipes. The tapan is a large wooden drum covered with sheep or goat skin. The kaval is a flute-like instrument open at both ends, played by blowing on the smaller, sharpened end. The gadulka is a pear-shaped string instrument, played vertically in front of the musician. These four instruments have a centuries-old history in Bulgarian folk music; as a "modern" addition, the band also includes the accordion.
Started as a solo project in 2000 by accordionist and drummer Jeremy Barnes (formerly of indie rock legends Neutral Milk Hotel) and named after a line in Cervantes' Don Quixote, A Hawk and a Hacksaw became a duo in 2004 when Barnes met violinist Heather Trost. The pair began an adventure that took them to Budapest, Hungary, where they lived for two years and met/toured with some of the country's finest folk musicians, as well as countless US & European tours both on their own and with big names including Portishead, Calexico and fellow New Mexico resident Beirut (whose Gulag Orkestar album they were key collaborators on). Joined by an ever-expanding and contracting line-up of musicians, A Hawk and A Hacksaw seeks to create and document an ecstatic sound much like the village bands of old, with the communal aspect of folk tradition and musicianship the key factor.
There is something connecting what may seem like distant points on the map: the Balkans and New Mexico, thanks to an odd tie Barnes and Trost felt on their travels. "Northern New Mexico is a beautiful ecosystem of cultural clashes and mixings, that really remind us of the Balkans and Transylvania," says Trost. "There are very few 'cultural climates' like this in the world, and I think it's something we try to reflect in our songs."
Whereas other American groups are simply "from the U.S.," when A Hawk and a Hacksaw tour in Europe, they are often promoted as being from New Mexico. "Many Europeans think that New Mexico is its own nation, and sometimes I wish it was. It often feels that way," says Barnes.
---

loading tweets
Coming Up