BUY STUFF AND SUPPORT AMP!
A percentage of every Amazon purchase made after clicking on this link is donated to AMP. An easy and fun way to show support. Happy shopping! Or click here to make a tax deductible donation to AMP.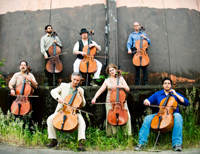 Portland Cello Project
Alialujah Choir
Time: 7:30pm Day: Tuesday Doors: 6:30pm Ages: All Ages
This Event Has Ended
Tickets are $22 in advance, $25 day of show (including a $2 service charge). They are also available through Hold My Ticket (112 2nd St SW), 505-886-1251, Monday to Friday 9 AM - 6 PM, Sat & Sun 11 AM - 6 PM.
Since the group's inception in late 2007, Portland Cello Project (or PCP, as their fans affectionately call them), has wowed audiences all over the country with extravagant performances, mixing genres and blurring musical lines and perceptions wherever they go. No two shows are alike, with a repertoire now numbering over 900 pieces of music you wouldn't normally hear coming out of a cello.
Portland Cello Project's mission is three-fold:
1. To bring the cello to places you wouldn't normally hear it. They've performed everywhere, from touring with heavy metal guitarist Buckethead, to sports bars in Texas, to punk clubs in Boston, to halftime at Portland Trailblazer games, to Millennium Park in Chicago.
2. To play music on the cello you wouldn't normally hear played on the instrument. Everything from Beethoven to Arvo Pärt to instrumental covers of Kanye West and Pantera.
3. To build bridges across all musical communities by bringing a diverse assortment of musical collaborators on stage with them. The PCP has collaborated with musicians such as Peter Yarrow (Peter, Paul and Mary), the Dandy Warhols, Mirah, Laura Gibson, Thao, Eric Bachmann (Crooked Fingers), Matt Haimovitz, and Dan Bern, among many others.
"If you could see how crazy everyone around here gets whenever the PCP cello-izes a new hip-hop or pop hit (which is a lot), you'd understand why their Thing is the best Thing going in Portland." (IFC's Portlandia Blog)
Opening the show is the Alialujah Choir [web site | Amazon.com], a trio featuring Adam Shearer and Alia Farah of Weinland, and Adam Selzer of Norfolk & Western and M. Ward.
Shearer, Selzer and Farah began writing and recording songs at Portland's Type Foundry with no commercial ambitions. They simply wanted to take shelter from the chaos of touring and make music together. Ensconced by friendship and solitude, the trio's shared sensibility to embrace their love for roots folk music has created a beautiful and compelling self-titled album.
The flowing harmonies of Shearer, Selzer and Farah elevate melody to a suspended state. It is the result of how the shape, range and movement of  their voices compliment each other. That dynamic shines bright on every track. On songs like "A House a Home," "I Swear I Saw You" and "Closer Than I Should," the band creates rich layers of sound with sparse instrumentation. The capacity to actualize such lush, voluminous, sound can likely be traced to  Selzer's skill as a producer and sound engineer. At Type Foundry he has recorded the Decemberists, M. Ward, Peter Broderick, Laura Gibson, Minus 5, Dirty Projectors, Blind Pilot, Jolie Holland, Herman Dune... the list goes on and on and now includes Alialujah Choir.
"The Northwest has plenty of sweet-sounding folk-pop bands without much to say, but Alialujah Choir has got the full package: With these talents it's no surprise the songs are melodically engaging (nor that they are brilliantly produced in Selzer's capable hands), but the excellent lyricism is a bit surprising. Songs written by committee often resort to cliché, but from the concise lyrical violence of 'Bones Cracking In' to the mysterious and haunting 'Closer Than I Should,' these songs function almost as well as mysterious short stories as they do as songs." (Willamette Week)
PCP recently collaborated with Alialujah's Adam Shearer on a live performance of Radiohead's OK Computer, and will be playing some of their OK covers at this show. Embedded below is PCP's take on "Exit Music (For a Film)," featuring Shearer on vocals.
---

loading tweets
Coming Up