BUY STUFF AND SUPPORT AMP!
A percentage of every Amazon purchase made after clicking on this link is donated to AMP. An easy and fun way to show support. Happy shopping! Or click here to make a tax deductible donation to AMP.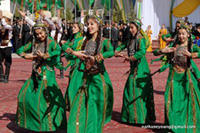 Albuquerque Sister Cities Foundation and AMP Concerts present
Turkmen Concert and Dance
Time: 6:00pm Day: Friday Doors: 5:00pm Ages: All Ages
This Event Has Ended
Seventy-eight Turkmen from Albuquerque's sister city Ashgabat, Turkmenistan are coming to Albuquerque to participate in a one-time evening concert at the Downtown Hyatt Regency.  Their visit is part of Turkmen Culture Days in the U.S., a good-will cultural exchange between the U.S. and Turkmenistan governments.  Only two cities were picked in which the Turkmen group, consisting of folkloric dancers and musicians, will perform. First, the group will spend three days in Washington D.C., guests of the Smithsonian Institute and Chevron corporation.  By special request of Turkmenistan's Ministry of Culture, Albuquerque will then host the Turkmen Culture Days' finale, as one way to highlight the sister city relationship enjoyed by both cities since 1990. The concert is free and open to the public.
"Albuquerque's sister city relationship with Ashgabat is one of the most successful programs in the country and is the reason why the Turkmenistan Federal Government requested that there be a special performance here," said Albuquerque Mayor Richard J. Berry.  "This is a great example of how even a sister city relationship can play an important role in strengthening international relations between countries."
Since its twinning in 1990, Albuquerque and Ashgabat have enjoyed many different cultural exchanges, which established friendships and connections upon which future collaborations could be built. The last five years has seen an increase in activity as several groups of business and government leaders from Turkmenistan have come to Albuquerque as part of the US State Department sponsored Open World program. In recognition of the growing relationship, Albuquerque will now host the largest delegation from Turkmenistan ever sent to the U.S.
The performance on December 6 will highlight this spirit of collaboration.  Turkmen dancers showcasing traditional dance and music of the famous Silk Road will be joined by Native American performers, including the renowned Pueblo of Pojoaque Buffalo Dance Group and Hopi hoop dancer Nakotah LaRance accompanied by his father–singer/drummer Steve LaRance. Dancers from the National Institute of Flamenco will also participate, showcasing the local Spanish roots.
Sponsors for the concert, as well as providing hospitality for our Turkmen guests, include the City of Albuquerque, Albuquerque Sister Cities Foundation, Turquoise Council, Hyatt Regency, Explora Museum, and AMP Concerts.
---

loading tweets
Coming Up