BUY STUFF AND SUPPORT AMP!
A percentage of every Amazon purchase made after clicking on this link is donated to AMP. An easy and fun way to show support. Happy shopping! Or click here to make a tax deductible donation to AMP.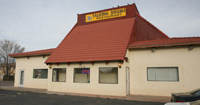 African Dinner
Time: 7:00pm Day: Friday Doors: 6:30pm Ages: All Ages
This Event Has Ended
Hot on the heels of our wildly popular Cuban dinner, we'd like to invite you to join us to celebrate the opening of Albuquerque's first African restaurant—Talking Drums—as well as the impending concert from Seun Kuti & Egypt 80.  
We'll have a fixed-price menu and communal seating.  You'll get one entree and an appetizer for $15.  You can also order a variety of regional drinks, including your choice of two African beers and palm wine. Vegetarian versions of all the dishes are available, or you can select your choice of chicken or beef to be added to them.  Dinner choices will be:
- Stewed Beans with Fried Plantain
African brown beans steamed and stewed in a spicy sauce, topped with fried plantains. 
- Rice and Beans with Stew
Rice and African brown beans cooked together, served with topping of red stew. 
- Jollof Rice with Fried Fish
Stewed rice in red sauce, served with fried fish.
- Pounded Yam and Peanut Soup
Pounded yam served with peanut soup and 2 pieces of meat.
- Appetizers Plate
Selections of the appetizers of the day, which may include fried plantain, puff puff, meat pie or others.
The name Talking Drums is derived from one of the West African methods of communicating, especially during a festive occasion, and nothing is more festive in Africa than sharing foods. Talking Drums has been getting rave reviews: food blogger Gil Garduño called it "an exciting find, one adventurous diners should not miss," while Larry McGoldrick wrote that the restaurant's jerk chicken "sets the standard for the Duke City. Once you try it, nothing else will come close. It's that good."
Traditional West African music provided by Ibrahimasory Fofana, Facinet Bangoura and Kobiana Nakigan of the Moria West African Dance & Drum Ensemble. Enjoy traditional songs and melodies on balafon, gounie and percussion from approximately 8pm till closing.  

loading tweets
Coming Up