BUY STUFF AND SUPPORT AMP!
A percentage of every Amazon purchase made after clicking on this link is donated to AMP. An easy and fun way to show support. Happy shopping! Or click here to make a tax deductible donation to AMP.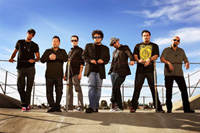 AMP Concerts & DLeNM present
Ozomatli
Time: 8:00pm Day: Friday Doors: 7:00pm Ages: All Ages
This Event Has Ended
Tickets are $23, $28 and $33 (including a $3 service charge).
Tickets are also available through Hold My Ticket (112 2nd St SW), 505-886-1251, Monday to Friday 9 AM - 6 PM, Sat & Sun 11 AM - 6 PM.
This concert is being held as part of La Cosecha Dual Language Conference and will help raise money for Dual Language Education of New Mexico's scholarship and endowment fund.
Ozomatli [web site | Amazon.com] has always juggled two key identities. They are the voice of their city, Los Angeles, and they are citizens of the world. Their music—a notorious urban-Latino-and-beyond collision of hip hop and salsa, dancehall and cumbia, samba and funk, merengue and comparsa, East L.A. R&B and New Orleans second line, Jamaican ragga and Indian raga—has long followed a key mantra: it will take you around the world by taking you around L.A.
Originally formed to play at a Los Angeles labor protest over a decade ago, Ozomatli spent some of their early days participating in everything from earthquake prep "hip hop ghetto plays" at inner-city elementary schools to community activist events, protests, and city fundraisers. In recognition of their efforts towards Los Angeles, the City of Los Angeles officially declared April 23rd, 2010 as "Ozomatli Day", as well as every following April 23rd, in perpetuity.
Ozo is also a product of the city's grassroots political scene. Proudly born as a multi-racial crew in post-uprising 90s Los Angeles, the band has built a formidable reputation over five full-length studio albums and a relentless touring schedule for taking party rocking so seriously that it becomes new school musical activism.
"Just being who we are and just doing what we're doing with music at this time is very political," says bassist Wil-Dog Abers. "The youth see us up there and recognize themselves. So in a playful, party-type of way, I think it's real easy for this band to get dangerous. We are starting to realize just how big of a voice we actually have as a band and how important it is for us to use it."
They were invited by the U.S. State Department to serve as official Cultural Ambassadors on a series of government-sponsored international tours to Asia, Africa, South America, and the Middle East, tours that linked Ozomatli to a tradition of cultural diplomacy that also includes the esteemed likes of Duke Ellington, Benny Goodman, and Louis Armstrong. Ozo were the first Western band to do a concert in Nepal and the event was the country's first peaceful mass gathering that was not a protest or religious ceremony. Ozomatli has spent 15 years working diligently to spread its message of peace, communication and understanding through music.
---

loading tweets
Coming Up