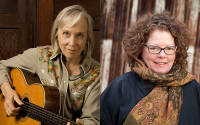 Laurie Lewis & Tom Rozum and Mollie O'Brien & Rich Moore
Time: 7:30pm Day: Friday Doors: 6:30pm Ages: All Ages
This Event Has Ended
This show is SOLD OUT!  
We have really sold everything we have, so we will not be putting up any last minute tickets on sale or freeing up any at the door.  Thanks for the enthusiastic response!
Tickets are $25 in advance, $30 day of show (including all service charges). They are also available through Hold My Ticket (112 2nd St SW), 505-886-1251, Monday to Friday 9 AM - 6 PM, Sat & Sun 11 AM - 6 PM.
This concert is sponsored by Rick & Gail Thaler and OGB Architectural Millwork.  Thanks as always for the ongoing support!
Mollie O'Brien's brother, Tim O'Brien, will be performing with Lúnasa at the KiMo Theatre on March 20. Mollie and Tim recorded three acclaimed albums together.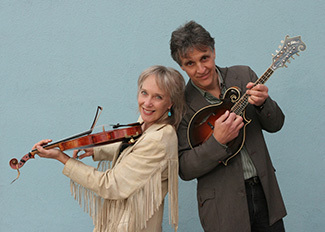 The music of Laurie Lewis [web site | Amazon.com] and Tom Rozum, while steeped in traditional styles, is a strong brew all their own. Not content to faithfully reproduce what came before, they draw from the passions and sensibilities that are at the foundation of rural music to build a new form. Whether singing  Laurie's exquisitely crafted songs or bringing new life to Everly and Louvin Brothers' standards, the two combine their voices in effortless harmony.
Since forming a musical partnership in 1986, Laurie Lewis and Tom Rozum  have recorded 20 albums and performed around the globe. New England native Tom Rozum is "a quintessential stylist who creates mandolin breaks with the same passion and precision Monet put into his brush strokes." (Mandolin Magazine)
Acclaimed musician Sam Bush calls Laurie "a great singer, terrific fiddle player, fine songwriter and one very good band leader." Utah Phillips said, "Laurie Lewis' songs combine passion and sheer craft in a way you don't hear very often. Whatever country music is supposed to be, she's at the center of it." Laurie also performed on the Grammy-award winning 1997 International Bluegrass Music Association album of the year True Life Blues: The Songs of Bill Monroe, and has twice been named Female Vocalist of the Year by the IBMA.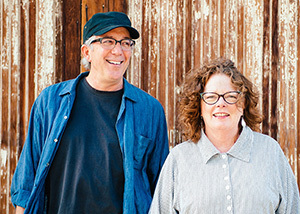 Singer? Check. Guitarist? Check. Married? Check. To each other? Check.
Mollie O'Brien and her husband, guitarist Rich Moore, have for nearly 30 years quietly made it their mission to find, mine and reinvent other artists' songs. They are geniuses at the craft of interpretation in the way that great singers, since the beginning of popular American music, have made the songs of their era their own. As songwriters they add their own tunes to the canon of American roots music they inhabit and show us they're completely at home with their musical selves.
Mollie (Tim O'Brien's big sister) has long been known as a singer who doesn't recognize a lot of musical boundaries, and audiences love her fluid ability to make herself at home in any genre while never sacrificing the essence of the song she tackles. She is a singer at the very top of her game who's not afraid to take risks both vocally and in the material she chooses.
Rich, while known to produce some of the funniest onstage running commentary, is also a powerhouse guitar player who can keep up with O'Brien's twists and turns from blues to traditional folk to jazz to rock and roll. He creates a band with just his guitar and, as a result, theirs is an equal partnership.
Both new and long time fans alike are amazed at the musical scope presented by just one singer and one guitarist. Mollie and Rich are unafraid of risk taking, authoritative in their performance, and fun. This is unaffected musicianship of the highest caliber.
Laurie, Mollie, Tom and Rich will be mixing it up, with performances by both duos and in various combinations. Harmonies to die for and instrumental chops galore.
---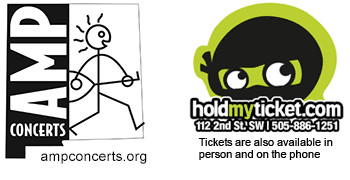 loading tweets
Coming Up