BUY STUFF AND SUPPORT AMP!
A percentage of every Amazon purchase made after clicking on this link is donated to AMP. An easy and fun way to show support. Happy shopping! Or click here to make a tax deductible donation to AMP.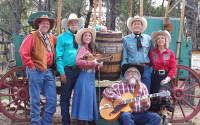 San Juan Day Celebration
featuring the Flying J Wranglers
Cipriano Vigil and Family
Time: 10:00am Day: Saturday Doors: 9:30am Ages: All Ages Price: FREE
This Event Has Ended
This day-long event will feature Elise Gomber's one-woman show "And Our Mothers Before Us" at 11 AM, traditional New Mexican music from Cipriano Vigil and Family at noon, and Western tunes from the Flying J Wranglers at 1:30 PM. Tours of the historic site will occur throughout the day, along with historical lawn games. Arts, crafts, and food will be available for purchase. Visitors are encouraged to bring folding chairs and sunscreen.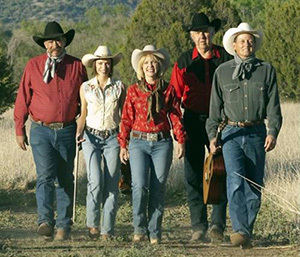 For over 30 years, the Flying J Wranglers have been taking audiences back to the Old West with fantastic fiddling, banjo plunking, guitar picking, world-champion yodeling and amazing harmonizing as they sing western ballads telling stories about the great American cowboys of old. Let this New Mexico ensemble lift your spirit with laughter and music from the funny, friendly and talented Flying J Wranglers. This family-friendly entertainment is sure to impress and transport you back in time.
James Hobbs sings lead and tenor, writes western songs, and plays the rhythm guitar. He mixes in his dry humor from time to time, to the delight of some and the confusion of others. A former national champion yodeler, Cindy Hobbs is a strong and pure Western music vocalist who brings a special energy and warmth to the stage. They are joined by bass guitarist/singer Roy Black, guitar/banjo/dobro player Tim McCasland, singer Greg Meeks, and fiddle player Corinna Ripple.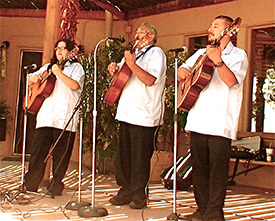 Cipriano Vigil was born and raised in the small village of Chamisal, New Mexico, where he received his early education. Part of that education was in the local schools, but most importantly, it came from his mother and grandparents, and from the local musicians. One of his most influential learning experiences was gathering at the "Resolanas," the sunny side of a house, to play music. Several musicians of all ages would gather there to practice and also to share music and songs.
Dr. Vigil began his career as a professor at Northern New Mexico College in 1980, and retired from that institution in 2004. He completed a doctorate in Ethnomusicology in 1988. That same year, he became the Chairperson of the Fine Arts Department, a position he held for ten years. Dr. Vigil has been honored as a Living Treasure and has received the Governor's Award and the New Mexico Endowment for the Humanities Award. He has been nominated three times for the National Heritage Award for outstanding work in maintaining and preserving traditional folk music. His son, Cipriano Pablo Vigil, and daughter, Felicita Vigil Piñón, have been performing with him in concerts for about 25 years; recently, his granddaughter Marisol Vigil (14 years old), grandson Mitzael Piñón (8 years old), and youngest grandson Alonzo Vigil (3 years old) have also been performing in the group. 
"And Our Mothers Before Us" is a one-woman stage show that pays homage to the women who bore the responsibility of preserving their cultures while educating their children and helping their male counterparts carve out lives in a harsh social and economic climate have often been set to the side by history in favor of the flashier stories of their husbands and fathers. Although the tales of gunfights and personal acrimonies among the men who lived here are certainly vital to the fabric of Lincoln County's colorful history, more than half the area's population during the Victorian era has lost its voice and this play aims to change that.
Elise Gomber is an actress who was born in Pennsylvania and has been fascinated by the people involved in the Lincoln County War since her childhood. After receiving her B.A. in Theatre from the Indiana University of Pennsylvania, Elise performed various roles in New York, Pennsylvania and New Mexico.  She also wrote the play "Check, Please," which has been staged both by her own university and in California.  She was a finalist in the Irene Ryan acting competition, performing a monologue she wrote.  For the past two years, she has split her time between New Mexico and Los Angeles.  On stage, Elise has played Lady Macbeth, Elizabeth Proctor in "The Crucible," and the title role in "Antigone," among others.  She has also worked in television and film, with roles in the Western television show "Longmire," and more recently in several independent films.
About Lincoln Historic Site:
Lincoln Historic Site is unique in that it manages most of the historical buildings in the community of Lincoln. This most widely visited state monument in New Mexico is part of a community frozen in time—the 1870's and 1880's. Through a gift from the Hubbard Family Trust, the historic site now includes 17 structures and outbuildings, 4 of which are open year round and 2 more seasonally as museums. Most of the buildings in the community are representative of the Territorial Style of adobe architecture in the American Southwest.
Lincoln is a town made famous by one of the most violent periods in New Mexico history. Today's visitors can see the Old Lincoln County Courthouse with museum exhibits that recount the details of the Lincoln County War and the historic use of the "House" as store, residence, Masonic Lodge, courthouse, and jail. Walk in the footsteps of Billy the Kid, Pat Garrett, and other famous and infamous characters of the Wild West. Trace the events of 1878 through the Courthouse and the Tunstall Store, with their preserved 19th-century atmosphere.
Click on the image below to see a larger version!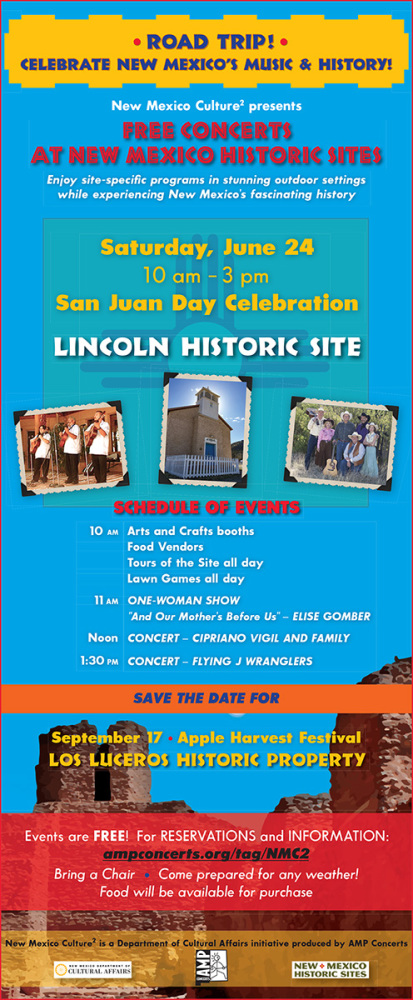 New Mexico Culture Squared (NMC2) is a NM Department of Cultural Affairs (DCA) project to build and manage partnerships between DCA institutions and cultural organizations that will enhance the impact, effectiveness, attendance, and visitor experience of exhibits and programs of DCA entities. Under the management of AMP Concerts, NMC2 will create programs in collaboration with State Historic Sites, DCA Museums and various cultural organizations with the goal of increasing public programs statewide and promoting New Mexico as a destination for arts and culture.


---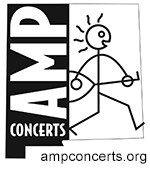 loading tweets
Coming Up