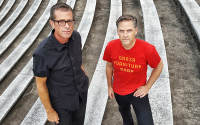 Calexico
with special guest Julia Jacklin
Time: 7:30pm Day: Wednesday Doors: 6:30pm Ages: All Ages
This Event Has Ended
Tickets are $28 in advance, $33 day of show (including all service charges). They are also available by phone through Hold My Ticket at 505-886-1251.
All ages. Beer and wine is available with ID.
The Bridge outdoor venue is a unique, open-air space with mountains on one side and an award-winning brewery on the other. The show will be held rain or shine.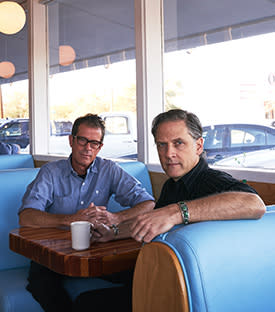 The ninth studio album from Calexico, The Thread That Keeps Us is a timely snapshot of the Arizona-bred band: a family portrait capturing their stylistic variety and unpredictability while still finding solace in limitless creativity. In bringing the album to life, vocalist/guitarist Joey Burns and drummer John Convertino found a spiritual home in unusual surroundings—not in Arizona, but on the Northern California coast in a home-turned-studio called the Panoramic House. Built from debris and shipyard-salvaged timber—and dubbed "The Phantom Ship" by the band—the grandiose house and its edge-of-the-world-like ambience soon made their way into the songs. The specter of California also had a powerful effect: as both dream state and nightmare, its infinite duality is mirrored in the music, giving Calexico a new direction and new edge. With less polish and more grit than ever before, The Thread That Keeps Us both honors enduring traditions and reveals Calexico's confidence in songwriting, ultimately setting a whole new standard for the band.
On the making of the album, Burns says, "There's a little more chaos and noise in the mix than what we've done in the past." Although that chaos has much to do with "where we're at right now as a planet," it also echoes Calexico's dedication to constant experimentation. "Whenever we're writing and we come up with something that feels too familiar, someone will end up saying, 'That feels good, but let's keep going and see what else we can uncover.' It's been really important to the arc of this band's evolution for us to always keep on trying new things."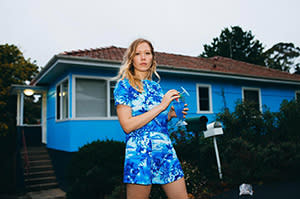 Julia Jacklin grew up in the Blue Mountains, NSW. As a kid, she sang. First classical music, then pop-punk tunes in a high-school covers band. By the time she moved to Sydney in her early 20s, she'd cobbled together sketches of her own—observational folk songs laced with a melancholic ache, but buoyed with a wry humor and Jacklin's rich, distinctive voice.
Fleshing them out at sporadic DIY shows and songwriter nights around Sydney, Jacklin collected a band of friends and headed to New Zealand to record with Ben Edwards (Marlon Williams, Aldous Harding, Nadia Reid). Three weeks later, she returned home with her debut album Don't Let The Kids Win.
---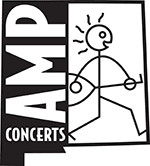 loading tweets
Coming Up