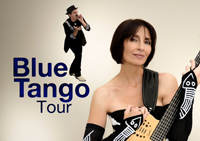 Maria Volonte
Time: 7:30pm Day: Thursday Doors: 6:00pm Ages: 21+ without parent or guardian Price: $16
This Event Has Ended
Tickets are $16 in advance, $19 day of show (plus $1 service charge). Limited seating available.
Tickets are also available through Hold My Ticket (112 2nd St SW), 505-886-1251, Monday to Friday, 11 AM-6 PM.
Tune in to KUNM's Corazón Tangero on March 5th at 9:30 pm for an interview and music from Maria, with host Cristin Baccin.
Maria Volonte [web site | Amazon.com], the winner of the Gardel Prize (Argentina's Grammy), a Latin Grammy nominee and a member of the Tango Hall of Fame, is an Argentine singer-songwriter celebrated for the intense passion and beauty of her songs as well as for her charisma and sensuality on stage.
After conquering the world of tango with numerous award-winning CDs, Maria's new work explores the fusion of Argentine music with other Latin American rhythms, jazz and the blues.
A tireless adventurer in music as in life, Maria lives year-round on the road, crossing the globe to bring her music to new audiences.
María Volonte's Blue Tango Tour is the new project from this mesmerizing artist and tireless musical adventurer.
The world-famous tango singer had built a successful career performing classic tango and folk songs from Argentina's rich musical treasure chest. But in 2007, despite her many accomplishments and award-winning CDs, she still wasn't satisfied. She wanted more. In search of a new way of making music, she wandered the world for two years, went back to playing her guitar (the same guitar with which she had begun playing on Buenos Aires street corners as a young woman) and started writing her own songs.
Teaming up with Kevin Carrel Footer, a blues harmonica player, writer and photographer from California, María began to fuse tango and blues. The Blue Tango Tour is María's celebration of the deep spiritual bond that joins tango and the blues, as two genres steeped in sin, born in brothels, censored yet always resurgent and speaking directly to our souls.
Performing together, Maria's guitar and vocals fill the stage with the illicit pleasures of tango while Kevin's blues harmonica echoes with the distant whine of the solitary blues soul.
About Kevin Carrel Footer:
Kevin Carrel Footer learned to play harmonica while hitchhiking across the US on a pilgrimage to Louisiana and Mississippi, the birthplace of the Blues. Later, following the scent of tango to Buenos Aires, he lost himself in the dancehalls and cafes of Buenos Aires for 15 years. Meeting Maria Volonte at the Cafe Tortoni where she sang each Thursday night for many years, their fusion of tango and blues was born.
What people are saying about the Blue Tango Tour:
The Guardian (UK) says, "She can mix an intimate treatment of tango classics by the great Astor Piazzolla with songs from Chile and Brazil, along with echoes of late-night jazz and Latin-blues fusion. She has a cool, emotional style, plays impressive acoustic guitar, and is willing to experiment."
The Los Angeles Times says, "Volonté is a good example of an artist who is respectful of her roots yet not afraid to go beyond musty old formulas… Her musical concept is refreshingly broad."
While Jazz Perspectives says simply, "María Volonté combines the earthiness of Edith Piaf with the sassiness of Eartha Kitt."
The Cooperage is a full service restaurant/nightclub specializing in steak & seafood, with a large salad bar, good desserts and a full bar. 
---

loading tweets
Coming Up