BUY STUFF AND SUPPORT AMP!
A percentage of every Amazon purchase made after clicking on this link is donated to AMP. An easy and fun way to show support. Happy shopping! Or click here to make a tax deductible donation to AMP.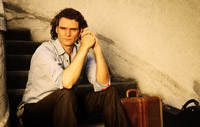 Jesse Cook
Time: 7:30pm Day: Thursday Doors: 6:30pm Ages: All Ages
This Event Has Ended
Tickets for this show are $25, $30 and $40 (plus applicable service charges), plus a limited number of $100 VIP tickets that include a pre-show Meet & Greet and a signed limited edition poster.
Tickets are also be available through the KiMo Box Office and Hold My Ticket (112 2nd St SW), 505-886-1251, Monday to Friday 9 AM - 6 PM, Sat & Sun 11 AM - 6 PM.
This concert is sponsored by Rick & Gail Thaler and OGB Architectural Millwork.  Thanks as always for the ongoing support!
Born in Paris, Jesse Cook [web site | Amazon.com] was inspired to pick up the guitar at age three by gypsy guitar legend Manitas de Plata, and his passion grew from there. Summers spent with his father in the gypsy barrio in Arles ingrained a love of rumba flamenco in the young guitarist, while impromptu jam session with the likes of neighbor Nicolas Reyes, lead singer of the Gipsy Kings, honed his skills.
Based in Toronto, Jesse Cook launched his career in Southern Ontario and has been recording and performing music internationally for over seventeen years. He is a JUNO Award-winning artist and three-time recipient of the Canadian Smooth Jazz Award for Guitarist of the Year. His previous release, The Rumba Foundation, debuted at #1 on iTunes Canada and the DVD for the release premiered on PBS.
The past three years have seen Cook tour extensively to sold-out crowds throughout the world, performing at both the Singapore and Dubai Jazz Festivals, the Cumbre Tajín Festival in Mexico, and electrifying audiences from the U.S. to Italy to Lebanon. With over one million album sales worldwide, Jesse Cook has spawned a truly global fan base.
Recorded live in Toronto, Canada, Jesse's latest PBS special, "Live at the Bathurst Street Theatre," will transport viewers from Spain to Morocco, from France to Colombia, and from Africa back home again with more stops in between.  Amidst these signature works that explore culture and our fascinating reactions to it, Jesse Cook paces this elegant show with poignant and lyrical works that highlight the diverse strengths of a band that has long been dedicated to Cook's artistic vision.  Among these fluid and transcendent moments come compositions that drive the artists and audience to dizzying heights with forceful, percussive works that demand a visceral response.
Cook's most recent studio album, The Blue Guitar Sessions, has been praised for Cook's "meticulous touch and subdued lyricism" (The Washington Post) and his "beautiful guitar playing... and sublime sounds" (Jazz Weekly). "I wanted to make a record that was more personal," says Cook. "Something intimate with more space to it than my previous work, the kind of music that I would want to listen to after midnight. I guess you could call it my grown-up album."
Cook was inspired by Adele's 21, which he played excessively. The album emboldened him to tackle a long simmering personal objective and create a "blue mood" record.
"It was the simplicity of it," says Cook of Adele's work. "For me it was amazing that an album, where many of the tracks were just voice and piano, was a pop record. I loved it.  It creates a world where we get to really hear her voice and also the pianist can be more expressive. It just becomes a much more intimate album, a much more personal album and I thought I would love to do that."
The result is a captivating 14-track album recorded on a pair of vintage microphones, which he had exhaustively searched for to replicate the mood of recordings from the Miles Davis era. Sound is of the utmost importance to him as a musician, producer and engineer.
---

loading tweets
Coming Up