BUY STUFF AND SUPPORT AMP!
A percentage of every Amazon purchase made after clicking on this link is donated to AMP. An easy and fun way to show support. Happy shopping! Or click here to make a tax deductible donation to AMP.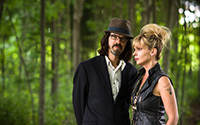 Over the Rhine
Time: 8:00pm Day: Saturday Doors: 7:00pm Ages: All Ages
This Event Has Ended
Tickets cost $27 (plus additional service charges for on-line purchases).  Tickets are also available from the NHCC Box Office (in person and by phone - (505) 724-4771).
This concert is sponsored by Rick & Gail Thaler and OGB Architectural Millwork.  Thanks as always for the ongoing support!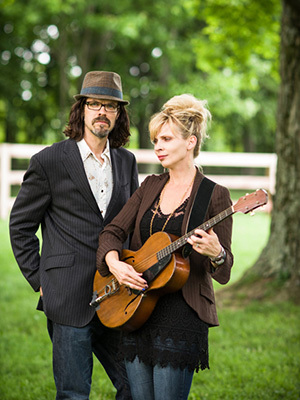 "There may be no more soothing voice in music than Karin Bergquist's," observed Entertainment Weekly. "She could be interpreting jazz standards, but fortunately she applies that balm to her and husband Linford Detweiler's beautifully languid originals, which invoke hard times and celebrate the survival of the least fit."
Native Ohioans Detweiler and Bergquist launched Over the Rhine [web site | Amazon.com] as a quartet in the spring of 1989, naming the ensemble after the historic, bohemian Cincinnati neighborhood Over-the-Rhine, where they lived and first wrote and recorded together. Their early demos and performances quickly struck a chord with listeners, and they already had a solid local following by the time they launched their recording career with a pair of well-received independently-released albums, Till We Have Faces (1991) and Patience (1992).
Over the next two decades, Over the Rhine continued to build a musically and emotionally potent catalogue. The fierce independent streak that has fueled Over the Rhine from the start asserted itself when Bergquist and Detweiler decided to release 2007's The Trumpet Child on their own Great Speckled Dog label (named after the couple's Great Dane, Elroy). The Long Surrender (2011) marked the band's first venture into fan-funded recording.
"We are blessed with an incredibly devoted audience who've assured us that they have invited our music into many of the significant milestones a human can experience," said Detweiler. "People have told us that they fell in love, or walked down the aisle, or conceived, or went off to war, or buried loved ones, or gave birth to our music. And so forth. At the end of the day, what more can a songwriter ask for?"
The effortlessly engaging, timelessly resonant songs on their latest release, Meet Me At The Edge Of The World, more than justify such loyalty, once again validating Over the Rhine's enduring musical mission.
"We see our catalog as our life's work," said Bergquist. "It's imperfect and broken, but we've also come to see our records as strangely beautiful and valid in their own way—much like life itself."
---

loading tweets
Coming Up