98.1 Radio Free Santa Fe presents
*** CANCELED ***
K's Choice
A Fragile Tomorrow
Time: 7:30pm Day: Saturday Doors: 6:30pm Ages: All Ages
This Event Has Ended
There has been some unexpected delays in venue inspections for the re-opening of The Bridge, so the K's Choice show cannot happen there.  Stay tuned for more information.
Tickets on sale now: $12 in advance, $17 day of show (including all service charges). They are also available through Hold My Ticket (112 2nd St SW), 505-886-1251, Monday to Friday 9 AM - 6 PM, Sat & Sun 11 AM - 6 PM.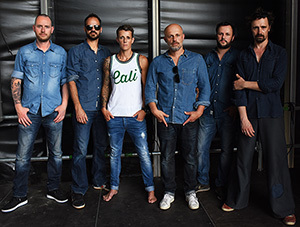 Since brother and sister Sarah and Gert Bettens of K's Choice [web site | Amazon.com] were 19 and 21 years old, it was normal writing procedure for each to compose a separate batch of songs, and then play the individual creations for each other, followed by duo edit sessions with only the strongest songs surviving the cut. For their new album, The Phantom Cowboy, however, they first sat together to determine the direction of the record and both agreed it was time to rock.
As Sarah reflects, "Gert and I decided to write together for this record, which is something we really hadn't done before. Since we wanted this record to have a very specific direction, we thought it would be fun to experiment with being in one room and feeding off each other. It turned out to be a great decision. We had a long writing session in the States and then another one in Europe. It made us focused and more importantly, it was a most enjoyable creative process."
Gert adds, "With just a handful of ideas and no songs, we basically started from scratch, and what hasn't really worked for us in the past turned out to be the perfect decision this time. Sarah's cozy basement studio seemed the perfect muse as the guitar riffs and lyrics flowed, we created the first song of the session, 'We Are The Universe,' and from that point on we just couldn't stop!"
The K's Choice fans from around the globe who have been clamoring for a pure rock record from Sarah and Gert will certainly not be disappointed once they dive into The Phantom Cowboy.
Originally formed in the early '90s by the brother-sister tandem of Gert and Sarah (hailing from Antwerp, Belgium), the group built a large worldwide fan base on the strength of such strong and varied albums as 1993's The Great Subconscious Club, 1996's Paradise in Me, 1998's Cocoon Crash and 2000's Almost Happy. Add to it a worldwide hit single (1996's "Not An Addict"), European hits "Believe." "Almost Happy" and "Everything For Free," plus some very high profile tour opportunities (opening for Alanis Morissette for the majority of the dates supporting her classic Jagged Little Pill album, as well as a Lilith Fair tour), and a long and fruitful career lay ahead for K's Choice.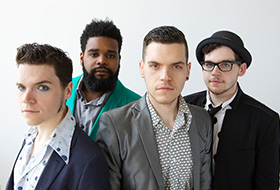 Formed in 2003 by brothers Sean, Dominic, and Brendan Kelly in their parents' basement and followed by the addition of Shaun Rhoades in 2006, A Fragile Tomorrow has four self-released studio albums under their belt, as well as a number of singles and EPs. Following the release of 2013's Mitch Easter-produced Be Nice Be Careful, the band signed with New York-based label MPress Records.
Featuring notable contributions from the likes of folk legend Joan Baez, Amy Ray and Emily Saliers of Indigo Girls, Mark Hart of Crowded House, Vicki Peterson of The Bangles, and John Cowsill of The Beach Boys, Make Me Over follows years of touring with such artists as Matthew Sweet, Toad The Wet Sprocket, The Bangles, Indigo Girls, K's Choice, Antigone Rising, and more.
Dressed in layers of dense guitars and harmonies, Make Me Over takes the mystery of rock n' roll androgyny and combines it with songs of accessible complexity. Self-produced by the band and recorded at Sean and Dominic's Low Watt Recording in Savannah, GA, the album explores new sonic territory inspired by the bold, explorative musical aesthetic of David Bowie, T. Rex, and Brian Wilson as well as the frantic energy of Cheap Trick and The Who.
---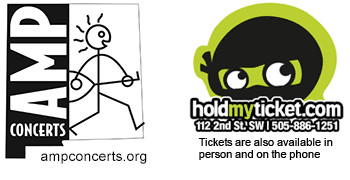 loading tweets
Coming Up