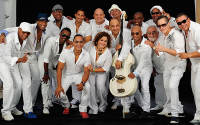 Los Van Van
Time: 7:00pm Day: Wednesday Doors: 6:00pm Ages: 21+ without parent or guardian Price: $27
This Event Has Ended
Tickets are $30 in advance, $35 day of show (including all service charges). They are also available through Hold My Ticket (112 2nd St SW), 505-886-1251, Monday to Friday 9 AM - 6 PM, Sat & Sun 11 AM - 6 PM.
Gates will open at 6 PM. Come out early to enjoy food trucks on site! Beer and wine will be available at the venue with ID.
This is an All Ages show, but anyone under 21 must have a parent or legal guardian with them.  No unaccompanied minors allowed.
Kids 12 and under are free (but still need parents/guardians!).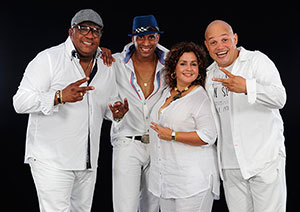 For the past four decades, Los Van Van [web site | Amazon.com] have been showing the world that Cuban music is alive and well and very, very danceable. With the crowd response on their most recent US tour (Los Angeles, New York, Miami...) as fresh evidence, that mission has been a resounding success. But there's a lot more to Los Van Van than meets the dance floor.
The true achievement of Los Van Van is that they take something very complicated namely, sophisticated lyrics, eclectic instrumentation and multi-layered percussion and they make it all seem very simple. They have invented a sound (several sounds, in fact) undeniably their own. Long before "fusion" became the catch-all label for Cuban musicians attempting to break the mould, Los Van Van set sail for new musical shores and never looked back. Listen to the band's earliest recordings and you hear violins playing rock chord progressions ("El Penoso"), and traditional changüi rhythms turned inside-out and upside-down.
Born in Havana in 1942, Juan Formell first studied with his music-teacher father, then with legendary Cuban bassists Orestes Urfe and Israel "Cachao" López. He got his first gigs playing his string bass in dance halls looking to revive their fortunes after the Cuban Revolution. "La Martes," a song he wrote while working with Elio Revé's charanga band, became his first dance hit.
Formell formed Los Van Van with another member of Revé's outfit, a piano player called Cesar "Pupy" Pedroso, and the two of them went on to write hit after hit. While there were always plenty of party anthems and sexy songs in the Van Van repertoire, the band's music has also served to document—and satirize—more sober realities of contemporary Cuba. The band's name, which can be loosely translated as "The Go Gos," was taken from a slogan that was part of Castro's unsuccessful attempt to increase Cuba's sugar harvest in 1970.
In 2013, the Latin Grammy Academy honored Formell with a special career Award for Artistic Excellence. He dedicated the award "to Cuban musicians and to all of the Cubans around the world."
Juan Formell's son, Samuel, joined the band as a drummer in 1993 and went on to contribute outstanding compositions such as "Te Pone La Cabeza Mala" (1997), the title track of one of Los Van Van's best albums. Samuel is still behind the drums, and he has taken over his late father's role as Los Van Van's musical director. Samuel Formell doesn't allow for doubts about either the band's future or its ability to innovate and stay relevant: "Today we're following in Juan Formell's footsteps in various ways," his son and musical heir explains. "Today there are new musicians, young contemporary musicians, the music is richer, there's a higher level of musicianship that's all fine. But Juan Formell's ideas live on, and his concept will always live on." And Los Van Van continues to tour far and wide, bringing danceable Cuban music to the planet in ways no other band could ever imagine.
---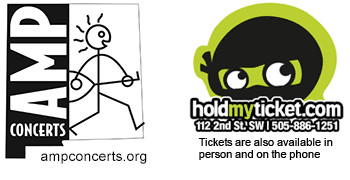 loading tweets
Coming Up