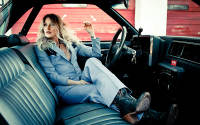 Elizabeth Cook
LeE HARVeY OsMOND
Time: 7:30pm Day: Saturday Doors: 6:30pm Ages: 21+ without parent or guardian
This Event Has Ended
Tickets are $17 in advance, $22 day of show (including all service charges). They are also available through Hold My Ticket (112 2nd St SW), 505-886-1251, Monday to Friday 9 AM - 6 PM, Sat & Sun 11 AM - 6 PM.
There are a limited number of reserved two-top tables available at $22 a seat. This is the only seating available in the club.
Tickets will go on sale August 10 at 10 AM.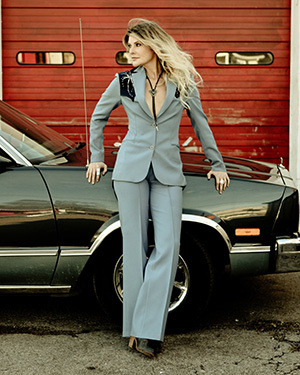 Elizabeth Cook [website | Amazon.com] didn't quite know what she was doing. But she knew there were songs, and they had to get out. Six even years since her critically acclaimed Welder, as well as much personal tumult, there were songs that needed to be born. 
"I'm slow, and getting slower," laughs the lanky blond, unapologetically. "I'm taking my time, really drilling down. There were nine versions of 'Methadone Blues.' I've never done that before. I love that entrenchment and dedication—and I wasn't going to do any less than what needed to be done."
For fans of the Florida-born'n'raised Cook, a Grand Ole Opry regular, SiriusXM Outlaw Country hostess and David Letterman favorite, Exodus of Venus will be something of a shock. If she maintains the tang of her drawl, what emerges—beyond Cook's always vibrant and vivid sense of detail—is a song cycle soaked in turpentine, musk and honey.
From the sweltering tumble of B-3 on the funky, shuffling "Methadone Blues" to the elegiac dignity of "Tabitha Tuder's Mama" and the Velvet Underground on fire bristle of "Brokedown in London on the M25," Cook's shouldering a deeper passion for the state of living today—and the crashing into the wall reality we all go through. If in the past Cook relied on wit and a certain dogpatch charm, Venus commands a raw-knuckled truth that's even more searing.
"There hasn't been a lot to laugh about," confesses the effervescent songwriter who once penned "It Takes Balls To Be A Woman" with equal parts Dolly Parton pluck and Loretta Lynn brio. "Things have been heavy and dark, and I feel really different. I aspire to be more than clever or dark or poignant, but to be honest. I want that to supersede everything.
"Emotionally, mentally, physically—it's all been tested," she continues, "and it set me up straight. It was hard, but it's a good thing. Really hard lessons in resilience... all of it is in the record.
"During the years when family was dying and houses were burning down and I was in divorce court and David Letterman was calling and doing shows with Anthony Bourdain, the whiplash was almost too much," Cook admits. "To keep up with all this great stuff, while I'd been sheltered for such a long time from tragedy, it transforms you. It really does."
Cook emerged a tougher, wiser woman. If her years as a rough-stock Minnie Pearl, part comedienne, part chronicler of life beyond the urban hipeoisie, had cast her first glass of champagne ebullience as a sparkling presence of hillbilly authenticity, Exodus of Venus suggests a woman tapping into the force of her true power. Frank, stumbling, angry, exhausted, triumphant, she owns the ragged edges, the torn seams and worn thin places.
A kid singer in her late-in-life parents' country music aspirations, Cook learned bar life early—and getting by with a pretty smile and a good line. Her mother—diagnosed with uterine cancer at 42 while pregnant with Elizabeth—and "raging alcoholic Daddy" had big plans.
"I'm the miracle child sent to heal my father, and I was bewildered by that. I was a princess, but the king was a monster. And if things weren't okay, I was failing."
After years of getting by on charm, with dysfunction part of the family's functionality, it all came apart in Cook's hands. But in the wreckage of death and divorce, Cook found liberation and emancipation. 
"I'm not trying to be the good girl anymore, and that brought some joy to all of it. I almost care more—or different," she explains. "These songs are more poignant. They're honest, and all about compassion or grace. For myself, and from a place of experience. Not that any of it was wrong, but I look back and have pride for all that happened and what I've survived."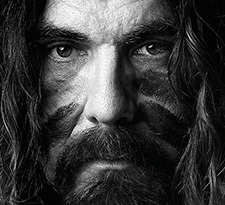 The career of LeE HARVeY OsMOND, a.k.a. Tom Wilson, the progenitor of "Acid Folk," spans over three decades, including stints with Junkhouse and Blackie and the Rodeo Kings. LHO's voice—forever the hallmark of his sound—is like a warm hand to the forehead, an arm on the arm of the stricken, a comforting growl at the heart of a screaming world. At once evoking Howlin' Wolf, Mike Scott and Roy Loney, LHO's third album, Beautiful Scars, bends and twists and stretches and squeezes his deep baritone, the producer treating it as if caged in a transistor radio, bathed in echo from above, or sunk in the muck of distortion. LHO's previous two albums, A Quiet Evil and The Folk Sinner, were previously long-listed for the Polaris Prize and nominated for a Juno. "The bass-lines that rattle your spine, the guitar reverb that echoes in your head and sultry horns that glide on through you—these are all as irresistible as a sinful dessert. And when you add Wilson's sonorous baritone, well then you're talking the stuff of bluesy roots rock heaven. Wilson sings of broken dreams, regret and lost loves in a place that has no set location in time. It is a world beneath this one or separate from it, like a Twilight Zone episode or a David Lynch movie." (Ride the Tempo)
---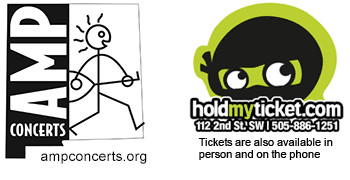 loading tweets
Coming Up