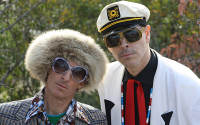 Levitt AMP Santa Fe Music Series
The Gluey Brothers
Best of Santa Fe Celebration
Time: 7:00pm Day: Friday Doors: 6:00pm Ages: All Ages Price: FREE
This Event Has Ended
Register for the event and we'll also send you updates if there are any schedule changes as well as info on future free Railyard programs and events around Santa Fe and Albuquerque.
Join your Santa Fe neighbors on the Railyard Plaza beside the landmark Water Tower for great FREE concerts all summer long.
Feel free to bring chairs to the concert.
Food and drink are available inside Second Street Brewery and Violet Crown Cinema.
Come down early to get a spot on the Second Street Brewery patio to enjoy a a cold beer with the music!
Violet Crown has patio drink & dining options too.
Ample parking is available in the underground garage just north of REI.
Download a map (JPG) showing all of the Railyard parking and transportation options.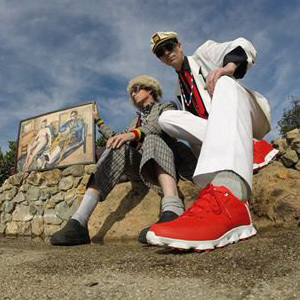 Coming onstage with hilarious, real-life characters that are both outlandish and lovable, the Gluey Brothers are not blood brothers, but rather are glued together in a tight bond on a magical level that allows for humor to flit between them in a super-fluid manner. M.C. Tahina and King Hummus, the twisted leaders of the group, became tight friends at Walter Reed Junior High School in Studio City, CA, where they first performed together in the jazz band. It wasn't until 1989 in North Hollywood, at a Middle Eastern cuisine restaurant serving falafels, that their intriguing and endearing personal names were born and they became the Gluey Brothers. 
While not heroic, the Gluey Brothers' characters grab your heart and win your respect. They maintain their dignity, even though some strong fun is poked at them, especially when the brothers themselves reveal exaggerated details of their imaginary lives.
The Levitt AMP Santa Fe Music Series is supported in part by the Mortimer & Mimi Levitt Foundation, a private foundation that empowers towns and cities across America to transform underused public spaces into thriving destinations through the power of free, live music. In 2017, more than 450 free Levitt concerts will take place in 22 towns and cities, all featuring a rich array of music genres and high caliber talent. Learn more at levitt.org.
---

loading tweets
Coming Up