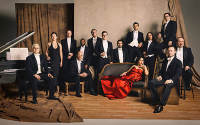 Inaugural Opera Charity Gala
Pink Martini and the Santa Fe Symphony Strings
Celebrating Kitchen Angels 25th Anniversary
Time: 7:30pm Day: Wednesday Doors: 6:30pm Ages: All Ages
This Event Has Ended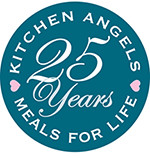 Standing Room ONLY (that means NO SEAT) tickets are available by phone only at the Santa Fe Opera Box Office. Call 505-986-5900.
Tickets cost $29-$109 (plus applicable service charges). Contact Kitchen Angels for special Pink Martini VIP reception.
For questions about buying tickets or to buy them over the phone, contact the Opera Box Office at 505-986-5900 or 800-280-4654.
Founded in 1992, Kitchen Angels serves residents of Santa Fe and other Northern New Mexico communities who are homebound, in a health crisis, lack the resources for regular meals, and are not eligible for other local meal services. Kitchen Angels believes no one in our community who is homebound because of a chronic, surgery-related, or terminal medical condition should ever go without appropriate nutrition. Making sure those in need have enough to eat is simply the right thing to do.
"Pink Martini [website | Amazon.com] is a rollicking around-the-world musical adventure... if the United Nations had a house band in 1962, hopefully we'd be that band."
—Thomas Lauderdale, bandleader/pianist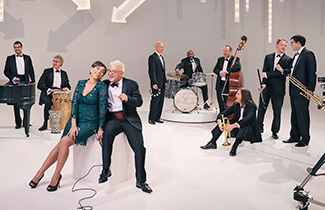 In 1994 in his hometown of Portland, Oregon, Thomas Lauderdale was working in politics, thinking that one day he would run for mayor. Like other eager politicians-in-training, he went to every political fundraiser under the sun... but was dismayed to find the music at these events underwhelming, lackluster, loud and un-neighborly. Drawing inspiration from music from all over the world—crossing genres of classical, jazz and old-fashioned pop—and hoping to appeal to conservatives and liberals alike, he founded the "little orchestra" Pink Martini in 1994 to provide more beautiful and inclusive musical soundtracks for political fundraisers for causes such as civil rights, affordable housing, the environment, libraries, public broadcasting, education and parks.
One year later, Lauderdale called China Forbes, a Harvard classmate who was living in New York City, and asked her to join Pink Martini. They began to write songs together. Their first song "Sympathique" became an overnight sensation in France, was nominated for "Song of the Year" at France's Victoires de la Musique Awards, and to this day remains a mantra ("Je ne veux pas travailler" or "I don't want to work") for striking French workers. Says Lauderdale, "We're very much an American band, but we spend a lot of time abroad and therefore have the incredible diplomatic opportunity to represent a broader, more inclusive America... the America which remains the most heterogeneously populated country in the world... composed of people of every country, every language, every religion."
Featuring a dozen musicians, Pink Martini performs its multilingual repertoire on concert stages and with symphony orchestras throughout Europe, Asia, Greece, Turkey, the Middle East, Northern Africa, Australia, New Zealand, South America and North America. In 2016, Pink Martini released its ninth studio album, Je dis oui!, which features vocals from China Forbes, Storm Large, Ari Shapiro, fashion guru Ikram Goldman, civil rights activist Kathleen Saadat, and Rufus Wainwright. The album is the band's happiest in years; it features 15 tracks spanning eight languages (French, Farsi, Armenian, Portuguese, Arabic, Turkish, Xhosa and English), and affirms the band's 22-year history of global inclusivity and collaborative spirit.
---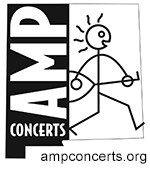 loading tweets
Coming Up