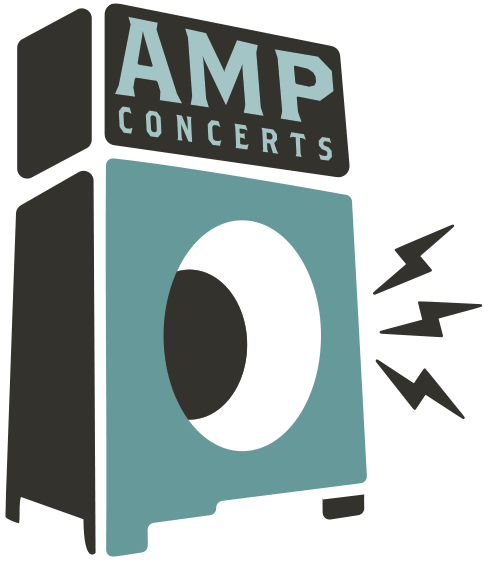 AMP Concerts offers innovative and inspiring arts programming throughout New Mexico. A portion of all AMP ticket sales goes to fund free community concerts, workshops, school programs & artist residencies.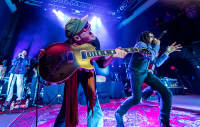 Thievery Corporation (Moved to Santa Fe!)
The Outernational Tour v. 2
Tone Ranger
Time: 7:00pm Day: Sunday Doors: 6:30pm Ages: 21+ (Under 21 allowed with parent or guardian)
This Event Has Ended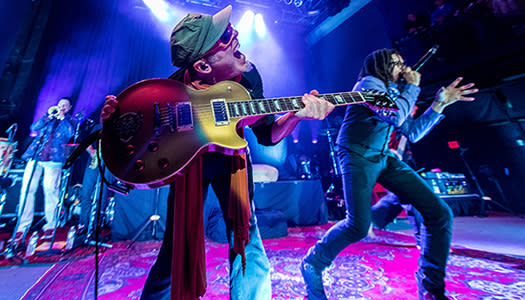 This show has been moved to the Bridge Patio at Santa Fe Brewing Company due to the impact of the fires in Northern New Mexico.  All tickets to the original show will be honored.  There is room for everyone who has tickets.  Additional tickets will be available as refunds come in.  
Ozomatli will no longer be part of the bill.  Under 21 is OK with Parent or Legal Guardian.  
Remaining tickets are $49 (including all service charges).

They are also available by phone through Hold My Ticket at 505-886-1251. 
This is a Standing Room Show.  A limited number of ADA seats are available.  
Twenty-five years into their genre-defying electronic music career, Thievery Corporation's founding principles of D.I.Y. and inclusion have become key themes in mainstream social conversation. After a dozen highly acclaimed full-length albums, remix LPs, concert recordings, and over two decades of incendiary live performances that have thrilled audiences worldwide, Thievery Corporation's music and message is more relevant and important now than ever.
Rob Garza and Eric Hilton have created one of the most unique bodies of work in electronic music, respectfully incorporating tastes of international cultural styles, without ever falling into the trap of cultural appropriation. "We always wondered: with so much incredible music in the world, why would anyone limit themselves to one genre? Well, we found out—it's far easier to stay in one lane than to genre hop!" laughs Hilton. Garza elaborates: "When we started, we were influenced by music from all over the world, flipping through bins in second hand record stores for LP's from Brazil, India, Iran, Jamaica, jazz records... we wanted to make music where you didn't know whether it was recorded today or a decade ago." Thievery Corporation's music has always looked toward the future while paying homage to the past, starting with their groundbreaking debut LP, 1996's Sounds From The Thievery Hi-Fi, which both introduced the world to Garza and Hilton as producers and set their course as pioneers of song-based electronic music with wildly diverse vocalists.
In a live setting, Thievery Corporation avoids any electronic dance music tropes. Yes, you'll dance, sweat and put your hands in the air... but their concerts are true performances, with a killer band of players and an array of vocalists from diverse global cultures. No two shows feel the same.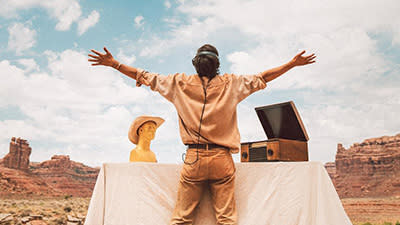 Tone Ranger's music embodies the beauty of the desert—its sands, suns, stars, and oases. Combining classic Americana instrumentation with retro-electronic, traditional Sephardic and cinematic influences, he presents an expansive tapestry of sounds.
Influenced by his lone journeys through vast Southwestern lands, Tone Ranger's music travels through realms of analog technology, vast deserts, empty highways and Red Rock canyons. Starting out in his "Rolling Studio," a van decked out for recording, much of his work was composed living out in National Parks responding to the sounds of the land and collecting field recordings.
Since releasing his debut eponymous EP in 2018 he's fast becoming one of the most in-demand live electronic acts emerging from the Southwest. A regular on the Meow Wolf stage, now playing at drive-ins throughout the US, Tone Ranger's show is expanding into an immersive audio-visual experience. This May, Tone Ranger released his debut album Desert Rose, the first episode of a four-album cycle called Peaks & Valleys; a body of music that journeys from euphoric summits to the depths of ocean caves and the cosmos.
---