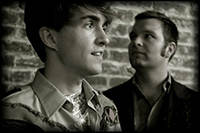 Ryanhood CD Release Party
Run Boy Run
Time: 8:00pm Day: Friday Doors: 7:00pm Ages: All Ages
This Event Has Ended
Tickets are $15 in advance, $20 day of show (including all service charges). They are also available through Hold My Ticket (112 2nd St SW), 505-886-1251, Monday to Friday 9 AM - 6 PM, Sat & Sun 11 AM - 6 PM.
Download a printable PDF flyer for this show.

Hailing from Tucson, AZ, acoustic duo Ryanhood have performed more than 800 shows in 46 U.S. states over the past decade.
Ryanhood began as humble street performers at Boston's Quincy Market, when Ryan Green and Cameron Hood were spotted by a college booking agent and thrust into the college touring scene. They quickly developed a reputation around the country as one of the most entertaining and engaging duos around. Their sweet and soaring harmonies, mesmerizing guitar melodies, and honest, searching lyrics all fit somewhere between Simon & Garfunkel, Arcade Fire, Mumford & Sons, and Jimmy Eat World.
They have since relocated back to their hometown of Tucson, AZ, where they have won more than a dozen Tucson Music Awards, including "Best Folk Band" and "Best Rock Band" (you can decide for yourself which is most accurate). This show is a CD release party celebrating their latest album, Start Somewhere.
The unique sound of Run Boy Run is rooted in the traditional music of the Appalachian South. Their music is dynamic, orchestral, and overflowing with beauty, existing in the tension between tradition and frontier. Three strong female voices weave a spectacular tapestry of sound. Award-winning fiddle cuts a path for a tightly formed rhythmic front. Every arrangement is – at its core – beautiful.
From winning the band contest at Pickin' in the Pines in the first weeks of forming in 2009 to playing on stage at the Telluride Bluegrass Festival as band contest winners in 2012 to making a second appearance on A Prairie Home Companion in St. Paul in 2013, Run Boy Run is spreading this special brand of music to all who would hear. With the release of the full length album So Sang the Whippoorwill in 2013, Run Boy Run is making more people dance, cry, and sing than ever.

Brother and sister, Matt (fiddle, guitar) and Grace Rolland (cello, vocals), have fiddle music running through their blood. Raised with bow and rosin on every bedside table, Run Boy Run was a natural fit. Sisters Bekah (fiddle, vocals, guitar) and Jen Sandoval (mandolin, vocals), grew up deeply rooted in the Bluegrass festivals of Arizona, so they too found a home in Run Boy Run. Jesse Allen (bass) was brought up on opera and western swing, and grew to love the natural fusion inherent in American music. The whole truly exceeds the sum of the parts as touches of classical, jazz, and folk express themselves through the old-time core of Run Boy Run's unique sound.
---

loading tweets
Coming Up