Please take a moment to visit LevittAMP.org and VOTE for Santa Fe to win $25000 to bring free concerts BACK to the Railyard in 2020! Make Santa Fe a four time winner of this national grant program to bring communities together! While there, please vote for our friends in Gallup as well who are trying to win a grant for the first time this year!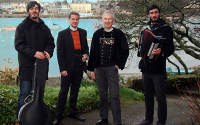 Breizh Amerika Collective
Time: 8:00pm Day: Friday Doors: 6:30pm Ages: 21+ without parent or guardian
This Event Has Ended
Tickets are $12 in advance, $17 day of show (including all service charges). They are also available through Hold My Ticket (112 2nd St SW), 505-886-1251, Monday to Friday 9 AM - 6 PM, Sat & Sun 11 AM - 6 PM.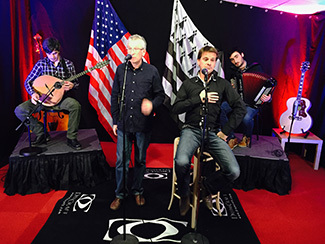 The "Breizh Amerika Collective" initiative brings together innovative musicians from Brittany, France and the United States of America to collaboratively work to create and produce original music, bring awareness to endangered traditions, while developing durable Transatlantic links of cooperation and understanding.
Armel an Hejer, Alain Le Clere, Thomas Moisson and Gaetan Grandjean will travel from Brittany to Rochester, Cleveland, Chicago, and Albuquerque, engaging and partnering with local community organizations and actors to foster new networks and relations while growing awareness for endangered languages, and promoting the Fête de la Bretagne across the USA.
Linguists have estimated that we stand to lose up to 96% percent of the world's languages by the end of this century. As one of the world's greatest immigrants cities, New York hosts many of these threatened languages, including Breton. UNESCO has recently designated elements of Breton traditions as masterpieces of oral and intangible heritage of humanity, and yet they are completely unrecognized outside their homeland.
The ancient vocal tradition of Kan Ha Diskan is one most distinctive genres of Breton music. The call and response formulation is used to accompany dances as well as ceremonies, celebrations, and more recently, at Fest-Noz (Breton night festivals). Fest-Noz is a festive gathering based on the collective practice of traditional Breton dances, accompanied by singing or instrumental music. The strong Breton cultural movement has preserved this expression of a living and constantly renewed practice of inherited dance repertoires with several hundred variations, and thousands of tunes. About a thousand Fest-Noz take place every year with participants varying from a hundred to several thousand people, thousands of musicians and singers and tens of thousands of regular dancers. Beyond the practice of the dance, the Fest-Noz is characterized by an intense camaraderie among the singers, musicians and dancers, significant social and intergenerational diversity, and openness to others. Traditionally, transmission occurs through immersion, observation and imitation, although hundreds of devotees have worked with tradition bearers to compile the repertoires and lay the groundwork for new modes of transmission.
Today, the Fest-Noz is at the center of an intense ferment of musical experiences and has spawned a veritable cultural economy. Many meetings are held between singers, musicians and dancers from Brittany and different cultures. Moreover, many new inhabitants of Breton villages use Fest-Noz as a means of integration, as it is heavily implicated in the sense of identity and continuity of the people of Brittany. The largest annual Fest-Noz in Brittany is called Yaouank, when over 7,000 dancers descend on Rennes every mid-November. 
---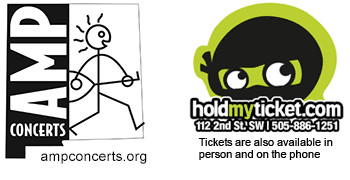 loading tweets
Coming Up