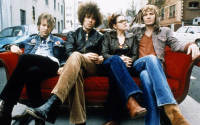 The Dandy Warhols
CanyonLands
Time: 7:00pm Day: Tuesday Doors: 6:00pm Ages: 21+ without parent or guardian
This Event Has Ended
Tickets are $26 in advance, $32 day of show (including all service charges). They are also available through Hold My Ticket (112 2nd St SW), 505-886-1251, Monday to Friday 9 AM - 6 PM, Sat & Sun 11 AM - 6 PM.
There are a limited number of reserved two-top tables available at $35 a seat. This is the only seating available in the club.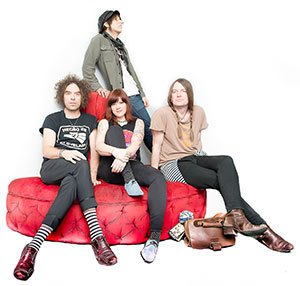 Enjoy the worst band bio ever, courtesy of The Dandy Warhols and Tres Shannon, Capricorn – Voodoo Doughnuts / X-Ray Cafe (Portland, OR). If you'd actually like to read something intelligible about the band, you might try their AllMusicGuide entry.
Just seeing how this works and it's GREAT. I love exclamation points, and this wonderful OLYMPIA typewriter does not have one, I know that Im gunna be using plenty of EXCLAMATION to describe a groovy little band outta Portland, called The Dandy Warhols [web site | Amazon.com]! (i found it)
Anyway, I was first aware of the DANDIES round 1993 or 4. It was a heady time then, Grunge was breaking bad, I was booking an all ages club called the X-Ray cafe, and pretty much at the end of my rope when it came to booking "an alternative" band. You mean bass, drums, guitar…verse, chorus, verse, chorus? whoo hoo… It was just becoming kinda a sausage, unsexy, loud, macho boy, aggressive kind of scene/sound there, for a bit. Not to say that there weren't some great loud unsexy bands that I enjoyed or booked but you get the picture…
So I heard about Courtney Taylor's new band called THE DANDY WARHOLS. I heard that they had that youngster/cutie pie, Zia in it who was just about ready to start hustlin' cigarettes for camel. For me at least, this mysterious guitar fellow, Pete (where did he come from, anyway?) I also knew Eric their original drummer from various nights on the town. I heard of these folks b4 I'd "heard" them… Nakedness, fucking, drugs, bike rides, motorcycle rides, cult like, were they associated with that Partridge Family Manson thing that was around then? who knew? I just know they were talked about with the sort of "you had to be there, oh my god! One long jam, Zia took her shirt off! oh my god!" kind of way.
I got to know Courtney a bit better over the late 90's and early oughts. Still so cool and being able to back THAT up, with whatever that means.
You either get it or you don't. Courtney GETS IT! I really did and and still do love just sitting and listening to him talk about his band, the scene, art, wine, famous people, not famous people, my mom, really anything. I always think that you gotta bring THE WHOLE SHAKER of salt when you belly up to Courtney, but it's always been fascinating and enlightening.
They were making the scene round PORTLAND, but became INTERNATIONAL stars after someone across the pond had the foresight to use their music for commercials, films, jingles and whatever else happened. You just catch lightning in a bottle sometime (don't I know it) and you just ride that wave or lighting or whatever. Try not to question it too much and hope you are equipped to handle it. Fortunatly for the WORLD The DANDY WARHOLS were equipped to handle that with grace, style, a bit of humility (not too much of that though, Rockstars shouldn't be too humble) but never losing touch with their friends back home.
Albuquerque's own CanyonLands will open the show. CanyonLands lurks in the darker, heavier end of the psych-rock spectrum. Their music evokes imagery more akin to a skull-faced desert shaman than unicorns and rainbows.
---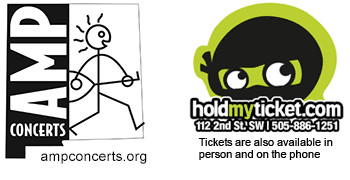 loading tweets
Coming Up