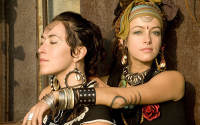 Rising Appalachia
Arouna Diarra
Time: 7:30pm Day: Wednesday Doors: 6:30pm Ages: 21+ without parent or guardian
This Event Has Ended
Tickets are $17 in advance, $22 day of show (including all service charges). They are also available through Hold My Ticket (112 2nd St SW), 505-886-1251, Monday to Friday 9 AM - 6 PM, Sat & Sun 11 AM - 6 PM.
There are a limited number of reserved two-top tables available at $27 a seat. This is the only seating available in the club.
A special yoga class VIP package is also available for $44. The package includes a concert ticket; a yoga class at the Santa Fe Railyard performance space with the band performing with yoga instructor Emily Branden (12:15-1:15 PM); VIP room access at the show; and a CD signing.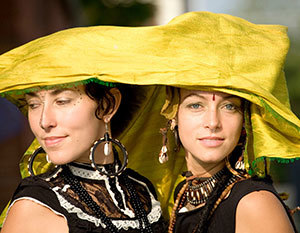 Rising Appalachia brings to the world new sounds, stories, and songs collected across oceans and originally sculpted to embody our human journey, our global community, and the treasures and troves of soul harmony. Led by sisters Leah and Chloe, the band tears into sound with sensual prowess as stages ignite revolutions and words light up soul fires. Listen to their beautiful sound for poetic harmonies, soul singing, spoken word rallies, banjos, fiddles, organic bass and groove rhythms, and community-building through sound. With an array of incredible collaborators, they are joined by everything from jazz trumpet to beat boxing, Afro-cuban percussion to Appalachian fiddlers, poets to circus art as their style redefines performance using sound as a tool to spark a cultural revolution and birth a new movement of unity and healing.
Rising Appalachia has independently released five full-length albums, sculpting a path for the new generation of music aficionados and creating a new lens to understand the impact of global sound on the world at large. Having been raised in the American South with Appalachian lullabies at night and soul music for breakfast, Leah and Chloe have drawn great inspiration from their global and local community. Their mother and father claimed art and music as a full part of their lives and thus the sisters have been shaped by the sounds of the South. They have continued to use those powerful roots to find musical connections and community around the world.
"Music is the tool with which we wield political prowess. Melody for the Roots of each of us… spreading song and sound around the globe. Music has become our script for vision… not just for aural pleasure, not just for hobby—but now as a means to connect and create in ways that we aren't taught by mainstream culture… we are building community and tackling social injustice through melody—making the stage reach out with octopus arms to gather a great family. It is taking its own personality, carrying us all along the journey down the damp and strange alleyways and cryptic coded pathways… to poetic observations, social change, lyrical messages, political rage, symphonic coercing, ferocious bantering, bicycles and train tracks, primal will, fresh air intoxicants, harmony and alliteration, noise and something sweeter than words can ever touch."
—Leah Song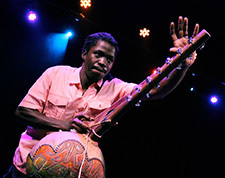 Opening the show will be Arouna Diarra, featuring members of Rising Appalachia. A griot (carrier of the traditions) from the Mandingue culture of West Africa, Arouna Diarra is an accomplished n'goni & balafon player. Performing a tradition of folk songs reflecting topics from war to love for one another, Arouna sings with spirit, nostalgia, and great joy, in his native language, Bambara. He plays the kamel n'goni—a 14-string harp-like instrument—with a melodic and percussive sensibility. Offering styles such as Wassalou, Arouna brings a dynamic repertoire to the table, full of timing changes and improvisational prowess. 
---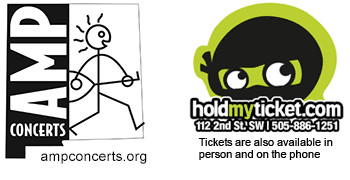 loading tweets
Coming Up