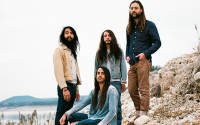 The Bright Light Social Hour
Megafauna
Time: 8:30pm Day: Friday Doors: 8:00pm Ages: All Ages
This Event Has Ended
 Tickets are $19 in advance, $22 day of show (including all service charges). They are also available through Hold My Ticket (112 2nd St SW), 505-886-1251, Monday to Friday 9 AM - 6 PM, Sat & Sun 11 AM - 6 PM.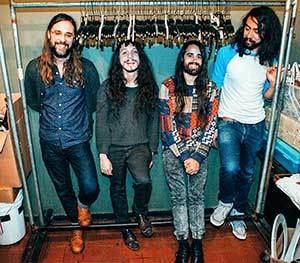 The Bright Light Social Hour [web site | Amazon.com] was formed by Curtis Roush and Jack O'Brien while they were attending graduate school at the University of Texas in Austin. Joined by drummer Joseph Mirasole, they released their self-titled debut in 2010 and scored six awards at SXSW 2011 Austin Music Awards. Throughout nearly three years on the road, they experienced the ins and outs of America, and that voyage ignited a perspective shift, displayed on their latest album, Space Is Still the Place. "The new album's themes and inspirations came from touring, particularly the southern part of the country," explains Jack. "We couldn't afford to stay in hotels most nights so we were staying with a lot of people. We got to see how average young Americans lived. We felt a lot of struggle."
"It was shocking," adds Curtis. "We realized how few individuals were working jobs they felt self-actualized by to some extent. They're pedaling for survival. Our generation has grown up in continuous financial crises, a lot of unemployment, a lack of opportunity, widening inequality, and pervasive issues of race, gender, and class. We're taking a lens to some of these gritty realities and espousing an optimistic, frontier-looking gaze into the future." Theirs is not just a thematic progression, though. Traversing the country and cranking tunes in the van, the collective musical palette expanded, embracing influences as diverse as deep house icon Frankie Knuckles, dance renegades Disclosure, Motown legends like Marvin Gaye, and Detroit Afro-rock revolutionaries Black Merda. Everything siphoned into the vision behind Space Is Still the Place. Building a studio in their Austin home, the boys began their musical journey in early 2013.
"We're all ostensibly southerners," Curtis continues. "The South has great food, a relaxed pace, and sweet, well-mannered folk. However, a lot of issues aren't going away. 'Future South' is both an aesthetic and political statement. We're taking forms and influences from soul, blues, and gritty southern music and ushering them forward. 'Future South' evinces the south can be a vibrant, egalitarian place. You can love barbecue and not be racist."
"The dichotomy exists musically," says Jack. "Some songs mirror these harsh truths with guitars and blues energy. Meanwhile, the dreamier electronic-influenced moments are about escaping those dark realities and going to a place symbolized by space."
"The Bright Light Social Hour prove that they are worthy of carrying the neo-psych-rock torch for years to come... Space Is Still the Place exemplifies their ability to remain cohesive while moving between various genres and styles. This trait, displayed on the album from start to finish, is sure to shoot The Bright Light Social Hour to the top of festival lineups and add to their already infectious and irresistible live show."
—Relix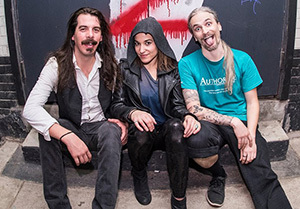 Led by Dani Neff, Megafauna sounds like Queens of Stone Age meets Bjork. The band's intense live shows summon prog-rock flash, alt-rock iconoclasm, pithy power-pop, and raw garage energy. Shredding a hook-laden path that's equal parts weird and magical, Megafauna is the thinking woman's hard rock. They've opened for the likes of Cursive, Mission of Burma and Trail of Dead over the past year, have over 100,000 miles of touring under their belt. Their latest album, Welcome Home, was released in May.
"Neff, drummer Zack Humphrey, and alternating bassists Will Krause and Bryan Wright carefully and enthusiastically compound progressive rock, psychedelia, and post-punk into an amalgam all their own... Equal parts challenging and accessible, Welcome Home rewards close attention but works effortlessly as ear candy."
—Austin Chronicle
---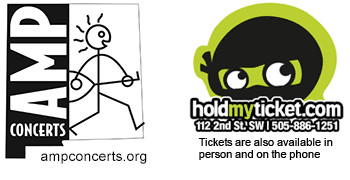 loading tweets
Coming Up