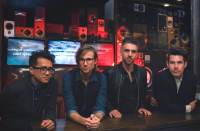 Saint Motel
Saint Motelevision Tour
JR JR (formerly known as Dale Earnhardt Jr. Jr.)
Time: 8:00pm Day: Tuesday Doors: 7:00pm Ages: All Ages
This Event Has Ended
Tickets are $26 (including all service charges). They are also available through Hold My Ticket (112 2nd St SW), 505-886-1251, Monday to Friday 9 AM - 6 PM, Sat & Sun 11 AM - 6 PM.
A limited number of VIP Meet & Greet Experience Packages are available for $75 (including all service charges). The package includes:

1 GA Ticket with venue Early Entry
Meet & Greet and Photo Opportunity with Saint Motel 
1 Limited Edition Signed Saint Motel Poster  
1 Digital Download of the new Saint Motel Album 
Every online ticket purchase comes with one (1) digital download of Saint Motel's upcoming album, SaintMotelevision, scheduled to be released on October 21, 2016. You will receive an additional email with instructions on how to redeem your album. Offer must be redeemed by November 30, 2016. One download per ticket.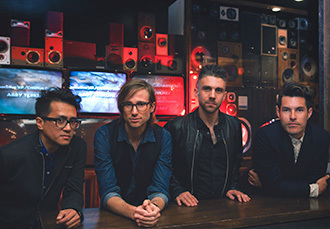 For L.A.-based four-piece Saint Motel [website | Amazon.com], every song holds the possibility for a spontaneous party. "That perfect moment in time where it feels like anything is possible. The kind of party where anyone is welcome but only a select few are invited," says frontman A/J Jackson, whose bandmates include guitarist Aaron Sharp, bassist Dak Lerdamornpong, and drummer Greg Erwin. "It's all kinds of people mixing together, and looking for these perfect, organic moments of beauty and danger."
As heard on Saint Motel's breakout single "My Type," that thirst for joyful eclecticism gets channeled into a retro-futuristic brand of pop that's big on bright melodies, shiny hooks, loungey rhythms, and clever yet candid lyrics. The title track from Saint Motel's most EP, "My Type" went top 10 at Alternative radio while Entertainment Weekly heralded it as a contender for "song of the summer."  And with its sly send-up of mod-world mystique—achieved thanks to the eye of Jackson, former film student who directs most of the band's video output—the "My Type" video has now racked up more than 12 million views on YouTube.
Saint Motel was born around 2009, by film school classmates and long time friends Jackson and Sharp. Initially the two bonded over their shared love of music, like Imperial Teen and Beethoven's 7th Symphony, 2nd Movement, and their appreciation of obscurist cinema. After bringing Lerdamornpong and Erwin into the fold, the band released their debut EP ForPlay in 2009 and put their visually oriented talents to use by adding a certain element of spectacle to each performance. "We played in half-pipes, semi-trucks, circus, pretty much anywhere we could.  We created our own bizarre brand of experiential concerts like Zombie Proms, Kaleidoscopic Mind Explosions, Judgment Days, etc." says Jackson. "We just wanted to do what we could to push ourselves beyond our comfort zone, and give people some kind of big, crazy experience whenever they came to see us."
In making their first full-length, Saint Motel again tapped their imagination by infusing some flashy exuberance into the album. "Voyeur was written in a dark, dungeon-like rehearsal space in downtown L.A.," Jackson recalls. "We'd go there after our horrible jobs, and try to make music that sounded like where we wanted to be, instead of songs that reflected where we were." After years of building an underground fan base in the States, Saint Motel took off for England in mid-2013, released "My Type" that August, and soon found themselves in the music-industry spotlight when the head of the BBC announced via Twitter that the song was destined for hit status. 
Saint Motel are pushing forward with the loose yet deliberate experimentalism that propelled the making of "My Type." "By the time we started working on the last EP, we'd all gotten tired of making chuggy, guitar-based rock, and our tastes were expanding more and more into other genres like jazz and electronica and soul," says Sharp. Naming the Bar-Kays' iconic instrumental piece "Soul Finger" as a one particular influence, Sharp notes that "the energy of that song is so incredible and you feel it so viscerally and we just thought, 'We need to make music that makes people feel like that.'"
But while soul, R&B, and funk music might have helped inspire Saint Motel's own sound, it's hard to pigeonhole them to any genre. "So much of why I love music has to do with that beautiful mystery of not knowing why I love music!  I'm constantly drawn to particular sounds—it could be a melody in a calypso song, a lyric in folk song, sometimes these little pieces hit you so hard and excite you and inspire you and you don't even understand why," says Jackson. "To us everything has potential, so we try it all."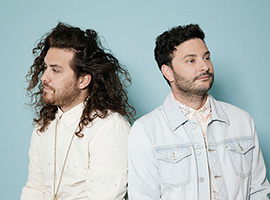 JR JR (formerly known as Dale Earnhardt Jr. Jr.) will open the show. Since first emerging in 2009, JR JR have defined themselves by a commitment to making intelligent pop music. In order to do so, the pair—Josh Epstein and Daniel Zott—paint with an expansive palette balancing everything from indie and alternative to hip-hop and electronic music. They achieved that balance in a big way on their self-titled third full-length album, JR JR, which served as the culmination of their unique camaraderie and musical collaboration thus far. By the end of 2015, heavy praise from the likes of NPR, Paste, PopMatters, Billboard, The Daily Beast and more, coupled with growing attention for their initial single "Gone," sparking the attention of a wide array of radio programmers and seeing the band performing on "CONAN," KCRW's "Morning Becomes Eclectic" and "The Late Late Show with James Corden." 
Alongside critical success, the duo's music has also become the soundtrack of choice for many working in film & television as well, with tracks recently featured in HBO's "Togetherness," trailers for Seth Rogen's "Sausage Party," "I Am Cait," "Please Like Me," "Grandfathered," "iZombie," and trailers for Showtime. As they continue to tour widely and perform to sold out audiences, their dedication to being both smart and accessible remains their guiding formula, with JR JR now at the dawn of their next chapter. 
---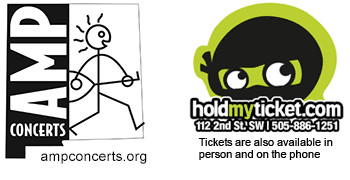 loading tweets
Coming Up