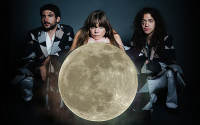 Arc Iris
Qais Essar
Time: 8:00pm Day: Monday Doors: 7:00pm Ages: All Ages
This Event Has Ended
Tickets are $12 in advance, $15 day of show (including all service charges). They are also available through Hold My Ticket (112 2nd St SW), 505-886-1251, Monday to Friday 9 AM - 6 PM, Sat & Sun 11 AM - 6 PM.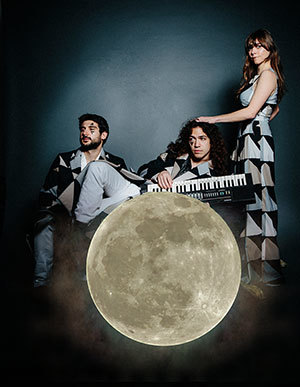 Arc Iris broke musical ground with the release of their acclaimed self-titled debut in 2014. The Providence, Rhode Island-based band quickly won over audiences in the US and Europe, supporting artists such as St. Vincent, Jeff Tweedy, and Clap Your Hands Say Yeah. The group performed at the London Palladium and festivals including Bonnaroo, End of the Road and the Rolling Stone Weekender.
Released on Bella Union in Europe and ANTI Records in the US, Arc Iris drew admiration for its innovative style and distinctive sound. "It's hypnotic," said the Boston Globe. The New York Times wrote of "songs that seesawed between the elfin delicacy of Joanna Newsom and some brassy raucousness." The Guardian talked of "a shape-shifting treat" while new music site The Line of Best Fit proclaimed, "Arc Iris is traditional music thrillingly positioned at the nexus of the old and new." 
Moon Saloon, released in August 2016, constitutes a natural progression from the first album's whimsical explorations and energetic diversity. Produced by the group and mixed by electronica producer David Wrench of FKA Twigs and Jamie xx fame, the album showcases beat-heavy melodies and textural, groove-riding rhythms. It developed from the band's distillations of musical influences, combining traditional elements with percussive structures and dense, beguiling harmonies.
In many ways this second album captures Arc Iris' musical odyssey as a band. "It has a heavier sound, more intense," says Arc Iris keyboardist Zach Tenorio-Miller, who makes liberal use of sampling in many of the songs. The group matches an unusual array of organic acoustic instruments with layered electronic sounds.
Lead singer and lyricist Jocie Adams, Tenorio-Miller, and drummer Ray Belli form the core of Arc Iris, all virtuosic musicians in their own right. Adams spent eight years as a key member of indie darlings The Low Anthem, effortlessly zipping from hammer dulcimer to clarinet to bass to vocals, sometimes barely pausing to take a breath. Her 2011 solo debut, Bed of Notions, sparked a musical beginning that became Arc Iris. Joining Adams on Bed of Notions was cellist Robin Ryczek, a conservatory-trained musician who toured with Jethro Tull and founded a rock school in Afghanistan. 
To help launch Arc Iris in 2012, Adams teamed with Ryczek and the musically agile Tenorio-Miller, an established indie-rock keyboardist for well-known talents from Gene Ween to the New Pornographers' A.C Newman. Later that year Tenorio-Miller brought in his longtime friend Belli. The two toured with Jon Anderson of Yes when they were just 16.
Arc Iris strives to reach the songwriting integrity of the Greats—Bob Dylan, Joni Mitchell, Leonard Cohen—while exploding the boundaries of pop music. The group bridges the digital computer music of Radiohead and Bjork to Brazilian Tropicalia, to Bowie-esque performance art. 
As the band members see it, "Moon Saloon" works like a song cycle that parallels the arc of Everyman's passage through modern day dilemmas. According to Adams: "The album is meant to be cathartic. There's an imbalance in everyone's lives. When there's often so much going on, we yearn for simplicity."
Arc Iris has attracted numerous fans around the world as the group's stage performances become storied events themselves. Space domes reveal giant golden wings in flight while montages light up the backdrop with evocative images. Above all, the group's love of music is a shared passion that comes alive with each song. As diverse as their musical interests and influences have been, the band members find avenues for producing a blend of soul-satisfying sounds that are truly their own.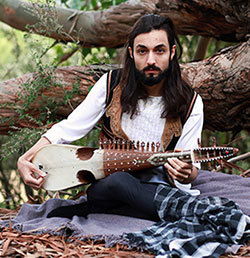 Qais Essar, international artist, composer, producer, educator and experienced live performer, carries on the traditional legacy of classical Afghan instrumentation, as established by Rabab legend Ustad Mohammad Omar Khan. A student of both classical and traditional forms of Afghan/Indian and western music, Essar is able to present the Rabab with a fresh new perspective. His innovative approach to musical composition and presentation combined with his media savvy presence makes him a rare breed of artist in the classical music world. In the same vein, the richness of his classical music training and the depth of his responsibility to preserve the culture of his war-torn motherland make his music and narrative exceptionally compelling among young, independent musicians.
The Rabab, an Afghan lute instrument, originating in Central Asia, can be dated back 2500 years. It is mentioned in countless works of Sufi poetry, having then and continuing to still ensnare the hearts of its audience, with its charming and sweet tones used either in a classical or folk fashion. The pride of its people, it is carefully crafted from the finest wood, harvested from the mulberry trees native to Afghanistan, goat skin stretched across the top. With 3 core strings, 2-3 drone strings, and 11-15 sympathetic strings, depending on its size (tuned to the specific raga), its struck with a wooden plectrum, producing a deep ambient timbre, unrivaled.
---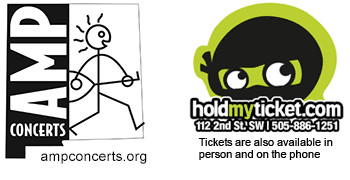 loading tweets
Coming Up